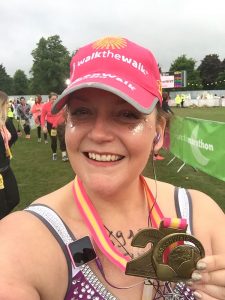 Last week we interviewed avid runner and Wac Arts supporter, AJ. This week we are finding out more from Wac Arts Trustee, Julieanne Gilbert.
Julieanne is the Director of HR at City Lit and is enthused by getting the chance to help connect people and ideas. She loves to get under the skin of a business using her relationship skills to drive change. We know Julieanne is going to drive to the finish line (using her legs not a car!), raising money for a charity that she is passionate about.
What's your favourite running/exercise tune?
Van Halen's Jump (I'm old school rocker!)
Have you ever taken part in a Half Marathon before?
Never! I'm not a runner but last year completed the night time marathon.
What will be the first thing you will want to do when you finish the race!?
Wow … I think a mixture of celebrate, show everyone my medal and have a hot bath.
What is your relationship with Wac Arts?
A trustee.
What does Wac Arts mean to you?
Wac Arts is a phenomenal charity whose work makes such a difference for so many – I'm amazed by the talent and success stories I see and hear make me proud to be a part of it.
What made you take part in the London Landmarks Half Marathon?
I love a challenge and the opportunity to raise the profile of Wac Arts and get sponsorship too.
What is your training schedule?
Good question! Balancing a schedule and work is hard but my focus is getting across the line.
The event is described as "not your average half marathon! From cultural landmarks and heritage to the city's quirky and hidden secrets, runners will get to explore the capital on a route like no other!" What excites you about taking part in the London Landmarks half Marathon?
Raising money for Wac Arts and being able to say I've actually done a half marathon!
How much are you hoping to raise?
Well I would love to get as much as I can … it's a challenging time for many but I would love to get at least £500
We want to say a big thank you and good luck to Julieanne. We know she will succeed in her mission to get over the line and she will be proud to know that she completed the Half Marathon for Wac Arts. The Wac Arts staff and students will all be there on the 25th March to cheer on the runners. Come and join us!
To donate to our runners please go to www.justgiving.com/fundraising/wacartsllhmteam
Join us next week for more runners stories…