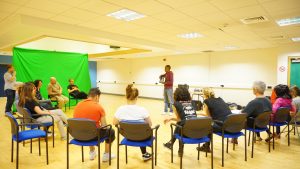 After a fab September representing Wac Arts at Parallel and Liberty Arts Festival along with Shape Arts, our disability programmes have kept up the pace with an action packed October!
To kick the month off, our Creative Innovation for Inclusion (CiFi) Think Tank meeting was held. This a forum for industry professionals and young people met to discuss how to create a wider, more sustainable impact on young people and communities affected by disability. We discussed the value of Spark and evaluating how we can measure impact – Think Tanks like this allow young people the chance to have their voices heard, and a stake in changing the way we're working to ensure it's as inclusive and accessible as possible.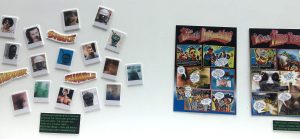 Later in the month everybody got their 15 minutes of fame when BBC's Bargain Hunt paid us a visit! The crew was filming a segment to go out as part of a Children in Need Celebrity Special, and they spent the evening hanging out with some of our young people, filming the workshops we put on as part of our disability programmes. The crew spoke to some of the tutors and group – it was a great opportunity to tell everyone about the fantastic work we put on here, and everybody's looking forward to seeing themselves on TV! The programme will go out at 12.15 on Children in Need day, Friday 18th November.
We've also currently got a fantastic Time Traveller Photography currently on display in the atrium at Wac Arts HQ. It's a multi-layered photography/comic book project, designed to take the viewer on a journey through time and space! It was created using an array of new and innovative photography apps, and our very own bespoke pin hole camera time machines helped us to create this imaginative tale. Check out the brilliant pictures, or pop in on a Thursday between 6.30 – 8.30 to check it out!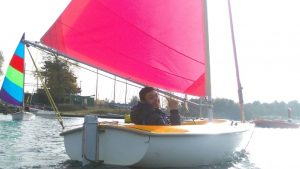 We've rounded up the month with a trip to Stubbers outdoor residential centre, where 12 young people and staff have had a fantastic week doing all sorts of outdoorsy things in the lovely autumn weather! We've been sailing and had a go on the ever popular climbing wall, and have had lots of really lovely evenings hanging out and sharing meals together in the evening. It's been a really fantastic trip and we're incredibly grateful to Stubbers for making this possible.