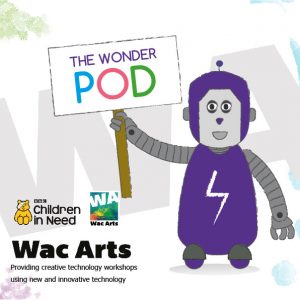 Across the various youth settings and schools that work with disabled young people, you'll find an abundance of technology. There's everything from iPads to tech like Sound Beams, Eye Gaze, skoogs, makey makey circuit boards… The list goes on. There are lots of weird and wonderful tools out there that help provide a dynamic multi-sensory experience for disabled young people.
However, these wonderful tools can often gather dust. Used once when first bought but then rarely used further down the line, because it can be a challenge for staff to work out how to use this equipment effectively. We all experience this. We buy a new toy, get really excited about it, play with it a few times but never really work out how to use it properly so it gets forgotten.
The Wonder Pod has been developed to try and help solve some of these issues and lend creative value to the fantastic resources we have out there. It's a resource pack with easy to follow tutorials and basic usage guides for multiple iPad software apps and hardware, giving anyone working with young disabled people a framework to run enjoyable, rewarding activities. It includes an array of accessible workshops and extended projects that encourage a dynamic and enjoyable use of technology. The goal is for fun projects that help improve disabled young people's confidence, communication and sense of independence.
The Wonder Pod was born out of Wac Arts Interactive, a three year BBC Children in Need funded project which used interactive technology to empower disabled young people to have fun and build friendships. With such an innovative remit, we were able explore various technologies, piloting them with our core groups and developing exciting collaborative workshops and extended programmes that our young people were able to take ownership of.
We have seen a huge impact of our technology workshops on many of our young people, providing them with improved communication, developing greater confidence and building a wider and sustained friendship group.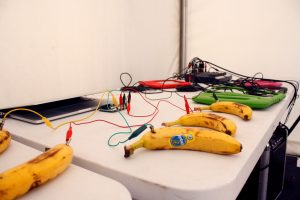 One young person who was referred to us when he was 15 was someone who rarely left his room. Some of our team did a home visit – we were keen to encourage this young person to engage in a programme outside of school. On the initial home visit, it was observed that he said no more than 3 words. We were able to give him enough encouragement to start in the group, but naturally he was shy and reserved and seemed anxious to get involved. However, the attraction of being involved in creative workshops kept bringing him back and with each project his confidence grew, his communication improved and he began to build friendships. He showed such a stark development that he was nominated as one of our first ambassadors to lead workshops to other young people on trips across the UK. He's now able to communicate to not just to his friends, but a brand new group of young people, leading workshops in cities he's never been to and staying away from home for a sustained period of time – one of the few times in his life he'd done this. This young person's growth has been extraordinary. He has attended every single one of our projects; he always arrives at least 15 minutes before session to socialise with others and is always willing to commit to every part of the projects. He is one of the most confident leaders, helping support the younger people in the group and has been a shining example in collaborative holiday projects with our Junior Wac Arts programme. He regularly spends time socially outside of Wac Arts with many of the other young people, going out for dinner, playing football and hanging out in the park. He is now in the transition to our over 18's group and has blended in with great success and has continued to grow and mature. Upon the conclusion of Wac Arts Interactive, this young person gave every staff member a personalised card with a unique message. We have seen this shy and vulnerable boy, who could only speak 3 words and whose social worker was at a loss with, grow into a confident, funny and dynamic man. This young person is just one example of the various great changes we have seen in the young people throughout Wac Arts Interactive and hope to inspire through Wonder Pod.
We have seen the young people we work with grow so much over the past three years. They have developed fantastic friendships and been empowered to have their own voices through creative expression. The technology we use has directly helped facilitate this. But technology is a tool – and like any tool we use, what makes it work to its best capacity is how you use it. Technology has developed a perception as being an insular point of engagement for young people, something that can create a barrier. But it really doesn't have to. It can allow young people the opportunity to access exciting new things and broaden their worlds. It can function as a tool that encourages people to work together to have a voice… we just need to know how to use it and not be scared of it.
You can download the Wonder Pod Toolkit today.