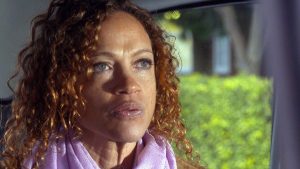 Indra is an English movie and stage actor who has worked in theatre with names like Trevor Nunn in Timon Of Athens, Poliakov in Blinded By The Sun (National Theatre), has played Hermia in Robert LePage's wet and muddy Midsummer Night's Dream (National Theatre), Henry Fonda's part in the female version of 12 Angry Men on the fringe and Bianca in Laurence Fishburn's and Kenneth Branagh's Othello. Indra starred in films like The Fifth Element, Resident Evil and Interview With The Vampire alongside Tom Cruise and Brad Pitt, as well as doing a lot of short and independent movies both in the UK and the US.
Indra is one of our fantastic teaching staff and inspires the young people at Wac Arts every time she is in the building. Indra ran the Brighton Marathon for Wac Arts in 2014 and is hitting the pavement again to support an organisation that is close to her heart.
Here is what she had to say…
What's your favourite running tune?
Missy Elliott – Get Your Freak On.
Have you ever taken part in a Half Marathon before?
No – I've done a full marathon before – for Wac Arts.
What will be the first thing you will want to do when you finish the race!?
Go for a celebratory vegan meal – then visit Wac Arts.
What is your relationship with Wac Arts?
I've been teaching drama at Wac Art for years.
What does Wac Arts mean to you?
A fantastic performing arts school for everyone of every diversity. A place that makes a real difference.
What made you take part in the London Landmarks Half Marathon?
My love for running and my love of Wac Arts.
What is your training schedule?
I run one day and do yoga the next. I'm building up to my long runs now and I've started to do hill training to build strength & stamina.
The event is described as "not your average half marathon! From cultural landmarks and heritage to the city's quirky and hidden secrets, runners will get to explore the capital on a route like no other!" What excites you about taking part in the London Landmarks half Marathon?
I love urban running, being a Londoner, so running past our landmarks and through hidden secrets I may not know really excites me, and gives me energy. I like being with the people, the cars, the busy of our streets.
What time are you hoping to complete the race in?
2 and 1/2 hours.
How much are you hoping to raise?
I'd love to raise £1,000 but lets see…
We want to say a big thank you and good luck to Indra!
Our runners took part in our January Jog last month to get kick started. To help continue their training, we are holding a February Fun Run on the 24th February. This event is open to not only our own runners but anyone who wants to join in. It's the perfect opportunity to keep up your new year's resolutions of getting fit and healthy, and to meet those who are supporting us in such a fantastic way. Anyone who wants to take part should meet outside Thorntons Budgens, Belsize Park, at 10.45am on the 24th February. It is hoped this will be the first of many events that brings Wac Arts closer to the local community.
The Wac Arts staff and students will all be there on the 25th March to cheer on the runners. Come and join us!
To donate to our runners please go to www.justgiving.com/fundraising/wacartsllhmteam
Join us next week for more runner stories…