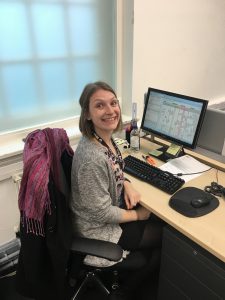 Our wonderful superstar Development Officer, Genevieve Corben is one of our 10 runners aiming to complete the Landmarks Half Marathon in support of Wac Arts this March.
We went to her desk and interviewed her about her training and other running related questions!
Enjoy…
What's your favourite running tune?
I'm currently listening to Musical Theatre playlists.. particularly the classics.
What experience do you have? Have you run before?
I am a complete novice. I started running in Summer just trying to run a mile, and I have slowly built up my distance.
What will be the first thing you will want to do when you finish the race!?
Take my trainers off!
What is your relationship with Wac Arts?
I am incredibly lucky to work at Wac Arts as part of the Development Team.
What does Wac Arts mean to you?
I love the performing arts, whether its Dance, Theatre or Music. When I was younger I was a performer, and now I go and see as much as I possibly can.
I know how important the performing arts has been for me, and whether you progress onto a creative career or not the skills and friendships you learn along the way are invaluable.
Wac Arts provides amazing performing arts opportunities to young people.
What made you take part in the London Landmarks Half Marathon?
A complete moment of madness! This is a massive challenge for me – but worth it for Wac Arts !
What is your training schedule?
I go to the gym 2 or 3 times a week, and I'm trying my best to run twice a week. Plus I'm eating lots of healthy food to keep up my energy.
What time are you hoping to complete the race in?
As a newbie to running I will be happy to finish the race no matter the time!
The event is described as "not your average half marathon! From cultural landmarks and heritage to the city's quirky and hidden secrets, runners will get to explore the capital on a route like no other!" What excites you about taking part in the London Landmarks half Marathon?
There is 10000 people taking part, and I know from watching similar event the atmosphere is going to be great.
I am really looking forward to passing the Wac Arts Cheer Station around the 8 mile marker at Cannon Street station – I know I will need lots of motivation at this point!
How much are you hoping to raise?
I'm hoping to smash my target of £500.
To help with my fundraising I am hosting a Coffee & Cake morning and have invited all my family and friends!
We want to say a big thank you and good luck to Gen! We know AJ and Gen are training this Saturday and if we can get a photo of them in action… we will!
The Wac Arts staff and students will all be there on the 25th March to cheer on the runners. Come and join us!
To donate to our runners please go to www.justgiving.com/fundraising/wacartsllhmteam
Join us next week for more runners stories…