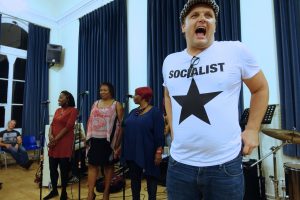 After the success of the summer event, Ché Walker's Revolution was back on the 4th September and raised an astounding £1300 for Wac Arts!
The sell out show raised the roof last Sunday, with 24 acts performing to a crowd of new and old faces to the Old Town Hall and Wac Arts. Opening the show were current Senior Wac Arts students Greta Gould and Ben Crawley, performing an excerpt from Midsummer Nights Dream. The energetic performance saw the actors enter the space in piggy back style, run down the aisles with shouts and even jump on chairs in the intimate space of the Small Hall. The two managed to portray the Shakespearian classic full of heart and comic timing!
Revolution regulars returned to the stage once more and seem to get better and better each time, Sheila Atim, Ako Mitchell and the Senior Wac Arts band performed a funky and passionate version of Rage against the Machines, "Killing in the Name of". Everyone was singing (shouting along!) and getting their rage on. Amongst all of the excitement, Sheila stayed her graceful and demure self, playing the piano as if she was serenading the audience with Bach not metal! On speaking with Sheila Atim about why she returns to the Revolution events in support of Wac Arts she said "Wac Arts opened my eyes to broader artistic horizons. I came out with so much more than when I first went in".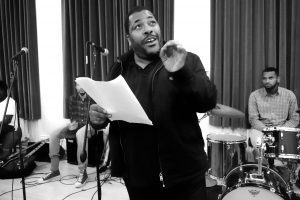 Alex Garnett returned with his sensational stand up style opening and sax playing, this time he was joined by surprise guest, Chicago singer, Gregg Baker who had the audience swooning with his deep, sultry vocals. Ché really proved his nurturing of emerging diverse talent as he included current students, graduates and emerging artists to the line up. Wac Arts Diploma graduates, Sophia Thomas and Simone Cornelius took the stage and were the first to get the audience up dancing, Boy Meets Girl star Harry Hepple and Jersey Boys ex Frankie Vallie, Michael Watson following suit. Shoes were kicked off and chairs pushed back to allow for some shapes and smiles to emanate around the room! Whilst Allyson Ava Brown was just as powerful as she was when cast in Ché's celebrated musical The Etienne Sisters. He brings her back as she really knows how to blow the audience away with her powerful pipes.
The night had topical themes running through many of the performances, acts such as spoken word poet, Zia Ahmed talked about home and belonging. Zia had the ability to have the room in fits of laughter one moment and deep in thought the next. A gem on a line up busting with talent was Batman Begins and Doctors star Jo Martin – she gave several riotous performances, all strong, funny and rousing, with impeccable comic timing and delivery.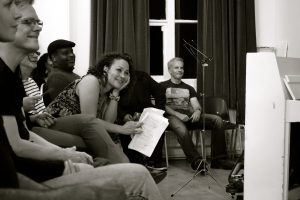 The night was also special as it was the launch of Wac Arts' new membership scheme, Supporting Cast. Casualty star and Wac Arts Alumna, Martina Laird gave a rousing speech telling the audience about her journey, her passion to Wac Arts and the work that is done to be an inclusive, nurturing platform for young performers, many of whom would not of been able to access the arts due to financial or personal hardship. She stated that for just two coffees a month you could become a Crew member and within just three months would have paid for a child to attend a Junior Wac Arts session – providing their first steps into the performing arts.
Of the night Greta Gould, one of the organisers, said, "Events like these are incredibly important to help spread the word about the kind of work that goes on, and how, through Wac Arts, young people can transform their lives for the better, carrying the skills and confidence that they have gained into their adult lives as well."