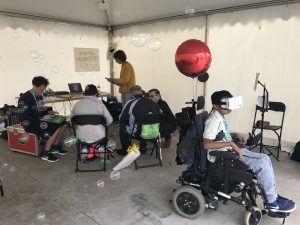 Parallel London began last year as an annual, fully accessible and all-inclusive, mass participation push/run event. Alongside the race events is a festival, with performances from inclusive groups and stalls showcasing what is on offer across the country. We were fortunate enough to have been invited along to the event last year and were delighted to be invited back to show off our technical resources and activities, and watch our team of runners take part while raising money for our programmes.
Our ten runners smashed last year's total by raising £820, and ran over 25km between them – that's the length of 2227 red London buses! We were so glad that they gave up their Sundays to raise money for our programmes, and will never be able to thank them enough. If you're interested in running for us yourselves, visit http://bit.ly/WArunners18 and find out about our places at the inaugural London Landmarks Half Marathon 2018.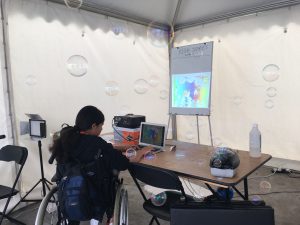 While the runners went off for a well-deserved rest, we welcomed many of the visitors to the festival into our 'Tech Tent', where they had the opportunity to make their own stop motion films and join our digital orchestra, with a choice of iPads or bananas as their instrument. We also had our virtual reality headset at the ready, so visitors could experience the 360-degree video made by the young people who attended our 'Virtual Seality' project.' There was also a chance to play a video game, 'Derya' created by our young people. There was fierce competition for the top spot on the leader board, but one of our runners, Sophia, fought it off and won with a whopping four-hundred points!
If you would like to try out some of the apps we used in our Tech Tent, visit bit.ly/WonderPod and download The Wonder Pod Toolkit. This guide provides all you need to know about using accessible technology to fuel creativity, have fun and build friendships.