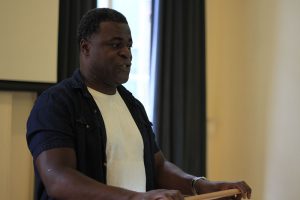 Thursday 12th July saw the graduation of our six, third-year Diploma in Professional Musical Theatre students. Shekira-Nicole, Ela Kalicka, Shelby Lattany, Bimpe Pacheco, Frances-Ann Bratke and Siana Stoddart opened the ceremony by singing the opening number of their last show 'Threepenny Opera' ('Mack the Knife') with their fellow students. The room was filled with friends, family and Wac Arts staff, all there to support the students on their special day.
Chief Executive Karen Napier started the ceremony, before handing over to Wac Arts Alum Danny Sapani. Comparing the graduates to the England World Cup team, he used the words of Gareth Southgate; "Write your own story, write your own history…you're individuals, but you're also part of the team." He highlighted that our students will go on to join a community of artists and storytellers, collaborating and working together to share their work. He instructed them to "Go forth and share your talents with the world" – advice we're sure they will remember.
There was then a chance to celebrate the work of the first and second-year students, highlighting some of their achievements this year with awards presented by the Head of Dance Ingrid Mackinnon, Head of Drama Steve Medlin and Head of Singing Cathryn Robson. Awards were presented to Heloise Pret for Achievement in Singing, Tareek Simpson for Dance and Grace Akinbode for Drama. A prize for representing Wac Arts at events such as our Camden Networking Breakfast and the Houses of Parliament was awarded to Chloe Fensom, and Anais Lone received the award for best attendance. It was great that we had the opportunity to celebrate the achievements of students from all years, not just those graduating.
Celia Greenwood, Wac Arts Founder, took the opportunity to address the third-year students. The class of 2018 was the last that she welcomed during her 37 years with us. She gave advice and praise to each student individually, and highlighted that Wac Arts is a family; something that many of our students and supporters know to be true.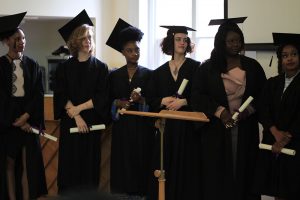 Graduation certificates were awarded by Steve and Interim Director of Programmes, Clare Lovett. The cheers for each student were almost deafening, and the joy and support from family and friends in the audience was obvious. As a special last touch, we were joined by Wac Arts Diploma Alum Nesah Gonzales, who recently graduated herself from the MA Musical Theatre course at the Royal Academy of Music. She dedicated a performance and 'I Know Where I've Been' to the graduating students, and brought the house down with the rendition.
Family, friends and supporters then posed for photographs, whilst sharing food that many of the parents had made at home and brought in themselves. The spread was incredible, but the atmosphere in the room even more so. In the words of many people on the day, "Wac Arts is a family", and this year's graduation certainly proved it.