The Course
Our full-time training in Professional Musical Theatre is a three-year course combining singing, dance and acting. We offer a diverse curriculum, not available at other drama schools, that encompasses practices from around the world. You will leave Wac Arts as a well-rounded performer, with experience in all three practices. At the end of each term, you are given the opportunity to perform your work.
[pullquote]'…and it's not the same, and that's not a bad thing. It's different in a beautiful way. It brings things to life that you would not have expected. I've done aerial – I want to be an actress, but I do aerial, and I've done Indian song, and I've done so many different things I never thought I would have a chance to. It's not just the straight training, with the same types of people, learning the same types of traditional things. You get the grounding, you get the foundation, but you also get this whole new world of things that I think I wouldn't have learnt anywhere else.'
Current Diploma student[/pullquote]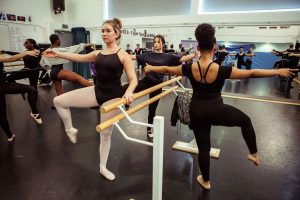 Dance
Within the dance modules, you will learn not only Musical Theatre staples like Jazz, Ballet and Tap, but Khatak, Afro Cuban and Horton. Our tutors are all industry professionals, and include David Blake (currently Banzai in The Lion King) and Sheila Attah, a regular collaborator with Uchenna Dance. Our students have also enjoyed guest tutoring from founder of Uchenna Dance, Vicki Igbokwe, and masterclasses from Carrie-Anna Ingrouille, a core member of ZooNation and resident choreographer for Hamilton. Graduates have gone on to excel in the field of dance, including Patience James and Fumy Opeyemi of GOP Dancers. Patience also regularly teaches on our Senior Wac Arts programme.
In addition to dance, the course also includes classes in Aerials, run by our partners Upswing. This is just one of the skills you will learn on the course that gives you the edge over other performers, making you ready to find work in an increasingly competitive industry.
---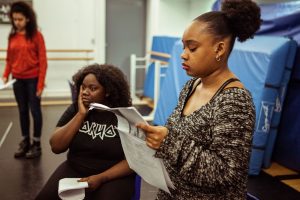 Drama
Our drama modules, headed up by Head of Drama Steve Medlin, develop your skills in not only contemporary and traditional acting techniques, but other art forms such as puppetry, physical theatre and acting for camera. Our visiting tutors include Martina Laird and English movie and stage actress Indra Ove. Masterclass tutors include puppeteer Oliver Smart and playwright and director, Che Walker. Recent graduates include Kandaka Moore, who has performed at the Shakespeare Globe and the recent Nike 'Nobody Beats a Londoner' advert.
---
Singing
Singing and Vocals training is lead by Head of Singing and Vocal Health, Cathryn Robson. As well as contemporary and commercial styles, the syllabus also covers African song, R&B, Hip Hop and how to look after your voice – essential for any aspiring musical theatre star or singer. You will also have opportunities to write your own songs, and use the recording studio on site to lay down your own tracks. Our visiting tutors include Jacqueline Tate (Madame Thenardier in Les Miserables) and Christie Valeriano, a former professional opera singer turned vocal coach. We also have songwriting masterclasses from Wac Arts alum Kevin Mark-Trail, who will soon be on tour with The Streets.Graduates who have gone on to excel at singing include Sophia Mackay, currently in The Grinning Man, and Newtion Matthews who you may have seen on The Voice.
---
Accreditation
At the end of the three years, you will receive a Level Six Diploma (equivalent to an undergraduate degree), accredited by Trinity College. There is also an option to take an additional module with Middlesex University, to receive a BA (Hons) Degree in Professional Practice (Arts).
Auditions
You will be asked to participate in a workshop in each of the three art forms, before delivering a solo in each practice, in line with the following requirements:
[list type="dot"]
[list_item]Drama Solo – Can be any published speech or monologue that can be delivered 'off the page'[/list_item]
[list_item]Singing Solo – A full song from any contemporary material, either acapella or with a backing track [/list_item]
[list_item]Dance Solo – A two-minute piece, with or without music.[/list_item]
[/list]
Following the workshops and solos, you will be invited to an interview. You must complete the application form prior to your audition.
Please visit our Diploma homepage to find out more about the course, and to apply.