Ms Dynamite Honoured with 2016 MoBO 'Paving The Way' Awards in partnership with ITV2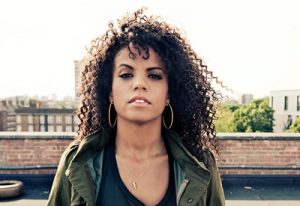 Three times MOBO award winner and acclaimed British R&B artist Niomi Daley, who performs under the stage name Ms Dynamite, will be honoured with MOBO's 'Paving the Way' award, celebrated with a ceremony unveiling a commemorative paving stone outside North London performing arts charity, Wac Arts.
In collaboration with ITV2, this award is designed to celebrate individuals who are inspiring a new generation of young people. Mobo representatives have called Ms Dynamite a trailblazer in her field, paving the way for future generations of talent. This year two stars are celebrated, Ms Dynamite and the record-breaking, multiple Olympic gold medalist Nicola Adams. She will lay her paving stone in her home town of Leeds.
As a recipient of the 'Paving The Way' award, Ms Dynamite has chosen to pay tribute to the area and place that inspired, influenced and encouraged her the most in her chosen career path, by laying a commemorative paving stone in her honour at Wac Arts. The special paving stone has been engraved with Ms Dynamite's own words "Those Who Are Afraid To Fall Never Fly, How Will We Ever Know, If We Never Try."
The event, televised by ITV2 includes speeches from Wac Arts new Chief Executive, Karen Napier, Ms Dynamite and CEO & founder of the MOBO organisation, Kanya King, MBE. This will be followed by a performance of a medley of Ms Dynamite's greatest hits by a group of current Wac Arts Diploma students. The unveiling of the stone will happen after the speeches and students performances with a chance for photos and interviews with the award winner.
Ms. Dynamite said: "It's a humbling moment to be recognised with a 'Paving The Way' award. I'm proud of the area I grew up in and the school that helped shaped me, Wac Arts. I am truly honoured to be in a position to inspire the younger generation of talent and passionately believe in and live by the words on my paving stone."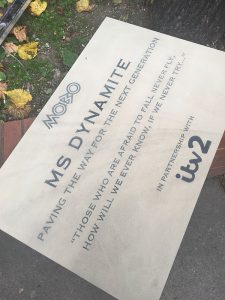 'Paving The Way' forms a key part of the MOBO Season, which took place for the first time in October 2015 and is comprised of a month-long series of ground breaking cultural and educational events across the creative industries of film, fashion, theatre and art. The recipients of the 'Paving The Way' award are honoured with a permanent paving stone laid in a place that shaped them – to shine light on their achievements and inspire the next generation.
Kanya King, MBE, CEO & founder of the MOBO Organisation said: "When I phoned Niomi with the news, she did not hesitate to mention Wac Arts as being a place that was very meaningful to her when growing up, giving her the springboard she needed to excel in every way"
Karen Napier, Wac Arts Chief Executive, said: "Today, with the help of the MOBO's and ITV2, we are delighted to be laying a paving stone to honour and celebrate Ms Dynamite outside our iconic building. Ms. Dynamite has always been an amazing ambassador for Wac Arts. Many years ago, when the charity was known as the Weekends Arts College, she was a pupil, attending every week, and she has gone on to have a successful musical career with many wonderful albums and accomplishments to follow."
Adding; "At that time, Celia Greenwood, one of the Founders of Wac Arts, was here and Celia was a key part of paving the way for Ms. Dynamite, nurturing and empowering Niomi as she fulfilled her own potential. We know that Celia, as well as other colleagues over many years and Wac Arts itself are very dear to Niomi's heart. Now Niomi is playing her part in inspiring the young people at Wac Arts as they fulfill their potential. We feel very honoured to have this permanent reminder of that special relationship."
The 2016 MOBO Awards are being held in Glasgow on Friday 4th November and will be broadcast live on ITV2 and repeated on ITV on the same night at 10.40pm on ITV.