Earlier this year, our team of ten runners raised over £7500 to support our programmes by taking part in the inaugural London Landmarks Half Marathon. This event was the first of it's kind; it's 13.1 mile route took runners around the most popular landmarks in London. We are delighted to announce that we have been offered fifteen places for the 2019 event.
About the London Landmarks Half Marathon
The London Landmarks Half Marathon is a closed road, central London run and is the only half marathon to go through both the City of London and City of Westminster. It was created by the baby charity, Tommy's, with the intention to both help their own fundraising efforts and those of charities across the country. As well as getting to see many landmarks along the way, there are opportunities to explore everything Grand, Quirky and Hidden around London, from London's oldest tea shop to Gringott's Bank, highlighted by a Harry Potter themed Cheer Station. At the 2018 event, Wac Arts Staff and Supporters were there to support the runners at our own Cheer Station just after the halfway mark.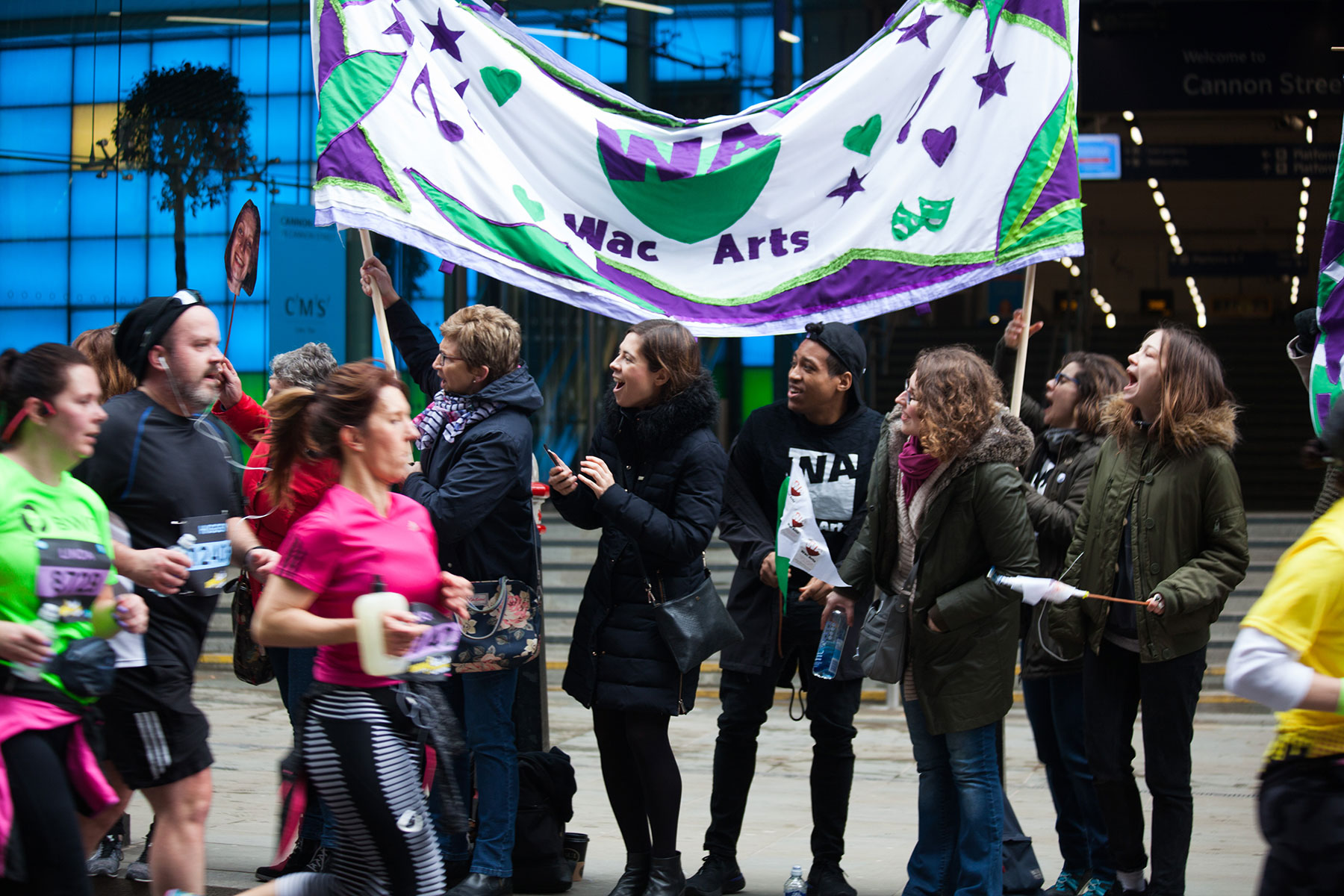 "I think my best bit was the start – I'm not going to get the chance to run down Pall Mall and through Trafalgar Square too many times. My low point was losing the sprint to the finish to Peppa Pig!"
Wac Arts Running Team Member after the 2018 LLHM
Support Wac Arts
We are looking for motivated and inspiring people to join our running team to help us achieve our goal of raising £10,000 at the London Landmarks Half Marathon in 2019. By joining our team, you will be part of the celebrations for our 40th birthday. The money you raise will support the future of Wac Arts as we continue in our goal to empower young people through the arts. You will receive support along the way, including team training days throughout January and February to make sure you are race ready.
If you would like to secure a place for the 2019 London Landmarks Half Marathon and would be interested in running on behalf of Wac Arts, please click here and complete a short registration form. We will get in touch by 31st August to confirm whether you have a place on #TeamWacArts
If you already have a place through the public ballot, we would love for you to join 'TeamWacArts and help us reach our fundraising goal. Please contact Philanthropy@WacArts.co.uk to find out more.