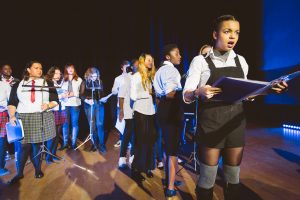 We have a brand new Wac Arts Choir on Wednesday evenings at Wac Arts Nites!
These will be weekly sessions at Intermediate level for young people aged 10yrs plus at only £2.00 per class!
Classes have now started on Wednesdays from 6.30pm to 8.30pm but it is not to late to join! This is a great opportunity for confident singers to work with Singer and Songwriter Rachel Bennett (Raie Music). A chance to develop your vocal/ performance skills and work with other singers. Classes will be working on material to perform at the Wac Arts InFlight (Aerials) show on Saturday July 23rd @ The Old Town Hall.
If you would like to enrol please email Info@WacArts.co.uk