July saw Wac Arts HQ, the Old Hampstead Town Hall, taken over by InFlight. We've been running InFlight as a part time professional development programme for people already involved in physical sports or art forms who want to expand their skills base with aerial work but have never had the opportunity.
Running part-time between April 2015 and July 2016, the project has provided participants with intensive training in trapeze, cocoon, silks and rope as well as harness techniques such as abseil and bungee harness. To marry all these skills, participants were also given an opportunity to take part in the InFlight final performance at the end of the programme, which took place on July 23rd across the entire building.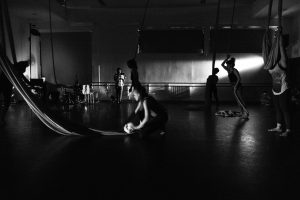 The piece was called InFlight From Home and dealt with the very timely themes of migration and belonging. The artistic vision of InFlight Artistic Director Leo Kay, immersive performance explored topical themes of home, immigration and the 'other' to expose lived experience and tackle wider socio-political issues surrounding ideas of nationhood. The audience were guided through intimate interactions and larger, image-based, physical spectacles around the inspiring grade 2 listed Town Hall in Belsize Park. The show went down a storm, and was widely reported on in the press. You can read a fantastic review from Jennifer Wakefield here on this great piece in London Dance by Vicki Amedume, the artistic director and founder of Upswing.