What we do at Wac Arts
Wac Arts delivers a range of creative arts and media projects for young people and adults with disabilities. We use innovative technology including Touchboards, Soundbeams, Skoogs, Beamz and specialist software in order to include even the most isolated or hard to reach participants in our creative work. We often adapt existing technology by creating what we call Assistive Creative Technology (ACT) systems combining programmed software and hardware peripherals such as the Microsoft Kinect or Nintendo Wii accessories. Our practice focuses on delivering fun activities that bring the participants together and give them ownership over the process and the outcome. Previous projects include themed soundscape creation, digital orchestras, painting with sound and digital group games. In our practice, we have high expectations to deliver inclusive projects and enable all participants to engage in the process equally.
Wac Arts and Participants with PMLD
In many of our projects we work with participants with PMLD and this challenges us to stretch our capacity to work inclusively. There are two key factors that present this challenge. Firstly, people with PMLD often experience even higher levels of isolation than other people with disabilities due to unique challenges in communication and high care needs. They are often limited to interactions with their carers, with their peers being either unwilling or unable to interact with them fully. This can cause loneliness and lack of stimulation for people with PMLD. It can also have serious effects on those around them who may often underestimate the things those individuals can do and the richness they can bring to a group setting. This challenges us to find activities and use ACT to ensure participants with PMLD can engage in the same activities and performances as the rest of the group. Secondly, people with PMLD often experience difficulties with their motor skills and this can prohibit them from using conventional musical instruments and technology such as computers, iPads, sound mixers and cameras. This challenges us to find new ways to engage participants with PMLD in activities that do not require significant physical strength or highly developed fine motor skills.
Drumming Activities with Inclusive Groups
We have found that drumming projects enable us to work inclusively. They have been some of the most successful projects in bringing a diverse group of participants together and we use them to build strong team work between young people with PMLD and the rest of the group. Circle drumming with Djembes and percussion brings a group together united by rhythm, sheer fun and the exhilaration of playing in unison as part of a large ensemble. It creates a unique pulse that affects each young person and engages their sense of sound and feeling fully. This is a rich sensory experience that is equally felt by all participants (whether they have PMLD or not) and sweeps everyone up in its rhythm.
With the wide range of needs in our disability groups, the use of ACT is paramount to ensure all are included equally and can contribute to the group's dynamic. For those group members who have physical impairments ACT such as the Skoogs, Soundbeam or Mogees can turn even tiny movements, via a computer and amplified PA, into sound. The technology can also produce visual projections (colours/shapes) in response to the movements which enhances the effect the participant's movement has.
Another powerful tool is combining the use of ACT with participants who are more able. For example, we often pair a participant with PMLD playing a sound via the Skoog with another student who controls the timbre and pitch of the same sound with an iPad. This unifies the two participants and they play together creating the final sound. This allows young people to collaborate in unique ways that are accessible to both and do not rely on conventional methods of communication.
Despite the possibilities that technology offers in supporting participants with PMLD to engage, the success of the projects rely on the facilitator's ability to promote those individuals' important role and musical contribution to the rest of the group and to ensure they are given space and time to express themselves. The way the technology is incorporated and utilised can have extraordinary effects on the sound being produced. Hitting a drum could be done through the slightest movement and could produce a whole range of different sounds and images depending on the choices the participant makes through the software. Being able to make choices about the sound and music they produce is essential in establishing ayoung person's presence in the group and validating their role as musicians in the group. The use of funny sounds can be an excellent tool for making the whole group enjoy themselves, become friendlier and accept each other. However, it is also the responsibility of the facilitator to explain to the group that each participant will interact in different ways, both to the others in the group and with the instruments and technology being used. It is crucial the other participants understand these differences so they can appreciate and give time to the alternative approaches being employed within the workshop.
Our use of ACT and innovative drumming workshops have allowed us to successfully remove elements of isolation and enable other young people to become more eager to engage, and assist those with PMLD both in and then outside the sessions.
Interactive Music Projects with young people with PMLD
Soundscape projects work particularly well with groups comprised entirely of people with PMLD. With the soundscape projects we usually begin with a theme (such as animals, the jungle, London) chosen by the group. We then collect sounds relating to the theme from online sound banks or record our own sounds in the group. Once the sounds have been collected we use ACT to allow the participants to play and modify them, for example by moving in front of a Soundbeam, wheeling over different switch pads or gently tapping the Skoog. This allows participants with PMLD to exercise high levels of control and choice about the final outcome. This collection of sounds are then played back and modified by the group creating a full soundscape. This soundscape can be pre-recorded and added to a multi-sensory installation that includes visual, tactile and olfactory stimuli. The soundscape can also be played live as part of a performance or installation.
Through the use of ACT in such projects we can clearly define each participant's interactions and that means we can more easily evidence each individual's unique contribution, responses and engagement. As ACT offers a unique way of engaging each participant, we are unlimited in the sounds and styles we can create within each project. Over a period of time we trial different ACT configurations with the individuals to ascertain a best-fit approach in terms of unassisted performance, enjoyment and communication/engagement with the group as a whole. When all members of the ensemble have been assigned ACT that works for them, the group can begin exploring ways of playing together, often led by the facilitator and with assistance from carers where necessary.
Though these projects can be immensely successful in engaging participants with PMLD in powerful creative work, it is important to consider some key factors in running such a project successfully. Firstly, choosing soothing sounds that are harmonious together is often preferable as opposed to loud unexpected sounds. This is because young people with PMLD are often unable to pre-empt loud sounds and this can make them uncomfortable with loud volume levels. Secondly, any opportunities to utilise the participants' existing communication methods should be employed for the best possible experience and interactions. This is because a project will be more successful if the structures it uses build on existing skills and familiar methods that will allow participants with PMLD to really extend and develop their skill set whilst being comfortable and confident within the process.
One PMLD label does not fit all
In all the projects we have run with participants with PMLD we have seen a huge difference in each individual's interests, capabilities and needs. This means that getting to know the individual participant well is absolutely necessary to design an appropriate and effective process and actually a diagnosis of PMLD on its own does not offer enough information about the best way to approach working with them. When engaging participants with PMLD we assess two key practical elements in order to produce a bespoke ACT support structure:
• Is the participant a confident communicator? Can he or she make their choices known either verbally or through other means?
If communication is the biggest concern, then we shape our ACT to support the participant to communicate their views or to use the technology independently without needing to communicate to others what he/she chooses to do. Technology such as the Soundbeam and the Skoog offer participants an opportunity to make and modify sounds using their body, movement and wheelchairs without needing to explain what they have chosen to do and why.
• In what ways does this participant move and what movements are more natural/easier for them?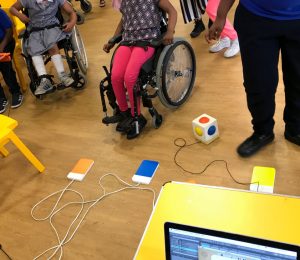 If mobility and movement are the biggest concern then we focus on adjusting our ACT to pick up on even the slightest movement so that even participants with the most limited movement can participate equally in the project.
Of course, in any project, the participants with PMLD are likely to present challenges in both communication and mobility but working through their capabilities and the potential presented by the technology we use allows us to create the most appropriate and targeted support structure for each individual. Throughout our work however, we have found that the biggest challenge is working with participants with very limited communication. In such cases the facilitator has to advocate sounds and decisions on behalf of the participant with PMLD but is often unsure if the participant is in agreement with these choices and if they are enjoying the process or not. Working with teachers and carers who have established relationships with the participants helps us understand their likes and dislikes, and note positive and negative body language signs that it would normally take time to fully grasp for each individual. There are no shortcuts to understanding the individual participant holistically and working through the arts is an invaluable process for new discoveries both for practitioners and the participants themselves. However, working closely with the people who support the individual with PMLD can often be as significant as the technology we use in helping us understand and work with our participants with PMLD.
Conclusions
Our conclusions are that ACT provides the creative assistance necessary for people with PMLD to be fully included in creative arts work in a way that offers them equal access, choice and control and an opportunity to interact and work with peers. At Wac Arts we challenge ourselves to continually increase our inclusiveness and our participants with PMLD help us learn more about how to do this. Through our successes so far we have found that it is as much the Assistive Creative Technology (ACT) we use as our approach to using it that makes a project successful, and getting to know the individuals we work with is a lengthy and invaluable process. Though we offer specialised ACT projects and training, we are also confident that other practitioners, teacher and carers can find new and creative ways to engage more fully with people with PMLD through the creative arts.

Post written by Leonie Elliot-Grave (Advocacy Coordinator) and Chas Mollet (Assistive Technology Officer)
Published in PMLD Link Magazine (www.pmldlink.org.uk), January 2018

At Wac Arts we believe that the creative arts are uniquely placed to offer participants with PMLD situations where they work independently and are in control, where they have powerful sensory experiences and where they can work and interact with peers on an equal level. To this end we have developed Assistive Creative Technology projects that enable us to include our participants with PMLD in the creative activities we develop.