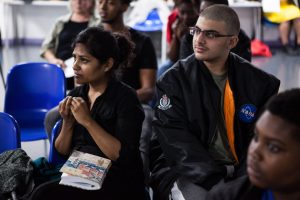 At the end of August, we ran a week of drama workshops for 14-26-year-olds in partnership with StrongBack Productions. The young people who joined this project explored the play Chigger Foot Boys, written by award winning playwright, Patricia Cumper. The play explores what it was like for Jamaican soldiers in World War One, and the young people were asked to delve into their story. What did the soldiers leave behind? What was it like for them during the war? And what was it like when they returned home?
[pullquote]'It was great to meet the writer of the play and do right by her work and get feedback.'
Participant, Drama Summer School[/pullquote]
Patricia joined us on the first day to lead a text-based workshop with Dr Richard Smith from Goldsmiths, University of London. We were then joined by Three Blokes Productions, who gave us some filming and interview tips to help with the rest of our work.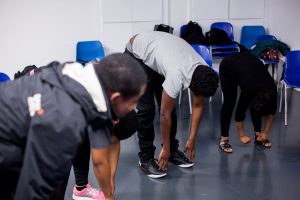 [pullquote]'Che was a brilliant teacher, supportive, funny but also had high expectations of us and treated us like professionals.'
Participant, Drama Summer School[/pullquote]
After that, the young people set to work with industry professionals, led by Che Walker, devising pieces and developing performance skills. A member of our Over-18s Inclusive Group dove deep into the text, writing a monologue which was performed at the final showcase.
[pullquote]'It was amazing.'
Participant, Drama Summer School[/pullquote]
The fantastic work our students produced will contribute towards the touring exhibition that will take place this Autumn. For more information on the production, visit www.strongbackproductions.com
To receive information about our future holiday programmes, sign up for our newsletter.
Join our Taster Day! Aerial skills, Afro-fusion and Street Dance, Jazz Dance, Drama, Music, Music Tech, Physical Theatre, Singing, Trampoline skills, Video Production and more, across introductory and advanced levels. We can also provide support for, and welcome, young people with additional needs. For more information, visit bit.ly/WATasterDay