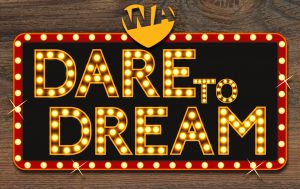 "Aspiration – Something that you hope to achieve"
The Cambridge Dictionary 2017
The Wac Arts 4th annual fundraiser has been announced and there is only a month to go before the Old Town Hall turns into a glitzy, festive wonderland.
This year Wac Arts are ready to turn up the volume with a night that will showcase Wac Arts' talent, past and present alongside raising essential funds for the organisation. After the success of the last two years; in 2015 a concert with composer and pianist, Michael Nyman and in 2016, Seven Ages of Man, directed by Wac Arts Patron Simon Callow which stared Vanessa Redgrave. Both of these fundraising events raised vital amounts for the creative arts programmes for young people. Dare To Dream will build of the success of the last 2 years.
Wac Arts supports young people in realising their potential, empowering them to achieve their dreams. The annual fundraiser, Dare To Dream will star Wac Arts students as well as alumni and Patrons that have succeeded in the creative industries. The alumni and Patrons inspire those who follow in their footsteps.
[pullquote]"Wac Arts opened my eyes to broader artistic horizons. I came out with so much more than when I first went in."
Wac Arts alumna Sheila Atim*[/pullquote]
Dare To Dream will be curated and directed by the Tricycles Theatre's Artistic Director, Indhu Rubasingham (MBE). Indhu brings a vision and vibrancy to the production that is inline with Wac Arts mission and the brands personality. Indhu will be working alongside Assistant Director, Actor Sylvestra Le Touzel, known for her role opposite Kenneth Branagh in his revival of the play 'Ivanov' on the West End stage. Both Indhu and Sylvestra are thrilled to be working with the students, alumni and Patrons of Wac Arts. They creating a show that will resonate with the audience and performers and that will have a positive impact on the arts organisation, raising essential funds for the programmes.
The cast is to be announced in the lead up to the event which will be held at Wac Arts on December 3rd 2017.
Please look at Wac Arts Facebook or Twitter for news and updates.
* Sheila Atim an alumna from Wac Arts weekend programme was named as Rising Star by Theatre London Online and recently starring in Girl from the North Country at The Old Vic to sensational reviews. Sheila will be attending the Evening Standard awards, watch this space for news on a nomination and potential award win.
Please note that this is a invite only event.