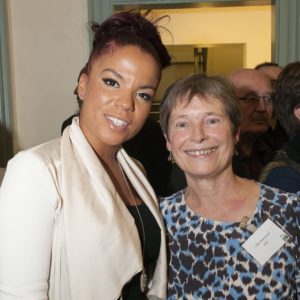 Wac Arts continues its journey, empowering young people to change their world
In 1978 Camden, like many of London's inter city boroughs, was struggling to provide local young people with an education in performing arts and media. Believing this to be particularly unfair on young people from disadvantaged backgrounds, Celia Greenwood, Teresa Noble and Ed Berman set up Wac Arts. They started out in a hall in Kentish Town with just 12 students.
38 years later, Wac Arts has seen over 30,000 students pass through its doors. Today Wac Arts is based in The Old Town Hall, Belsize Park, and the focus is still on inclusivity and diversity. Our young people receive training in various art forms, from African dance to Aerial skills, Film editing to Fencing – all at very low or no cost.
78% of the children and young people we work with are from black and ethnic minority backgrounds. 20% have special educational needs and disabilities. 72% come from a background of deprivation. At the heart of the organisation is a commitment to empowering young people and Celia feels a deep sense of pride the many students and staff, who have passed through her care, whether they have gone on to be Mercury Award winners and Oscar nominees, or parents who, with no personal experience of their own, have gone on to create their own loving stable families, or those with a prison record, who have rebuilt their lives to make a significant contribution to the community. Celia plans to continue doing what she loves, teaching drama, mentoring young people and speaking about the issues she believes in, especially the lack of diversity and opportunity for young people within the arts.
As Celia steps down, Liz Cleaver, Chair of the Board of Trustees said "We thank Celia for her years of dedication to Wac Arts. Our mission to SUPPORT YOUNG PEOPLE will remain as strong as ever under new Chief Executive Karen Napier, who has a life-long passion and professional experience in the arts, cultural and education sectors."
Wac Arts is about to celebrate its 38th Birthday and is planning to launch Supporting Cast, a philanthropic giving scheme with its newest Patron, Game of Thrones actor, Owen Teale. The organisation is also looking forward to its annual fundraiser this December, which will be produced by acclaimed theatre actor and Wac Arts Patron Simon Callow and will include many of his theatre friends.
As Wac Arts journey continues so does its commitment to providing arts education, training, holistic support and guidance to those who need it most, in order to open up opportunities and improve the lives of young people in Camden and across Greater London. Giving young people the chance to change their lives.
"Wac Arts was an invaluable experience for me, not only to develop as an actor but I gained an appreciation of the arts. Ballet, Jazz they encouraged me to try everything. Wac Arts opened my mind" Golden Globe winner and Oscar-nominated actor Marianne Jean-Baptiste