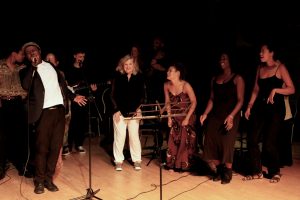 On Friday 23 June we opened up our doors for a very special Revolution – put on at the last minute in order to raise vital funds for the victims of the Grenfell Tower fire. It was an incredible evening – but don't take our word for it – here's reviews from two of our attendees.
Habie said:
Last night's Grenfell Tower support concert at Wac Arts was one of the most beautiful evenings of words and music I've ever been to; I am still digesting its impact.
With no fuss or ego, more than thirty inspired artists performed one piece each and all were sublime. Infused with conviction, sorrow, determination, poetry, warmth and talent. Natalie Clein played a lament on her cello with a skill, delicacy and passion in her whole being that conjured Jacqueline Du Pré, Celia Imrie gave us a wrenching Lady Macbeth's Vile Spot speech as if she were being actually consumed in front of us by tormented guilt, Lorna Gayle made Gotta Find a Way sound like an irrefutable anthem for our times, Ann Mitchell read a Jewish curse with a terrifying rage that spoke for all of us, verbatim transcripts of Grenfell experiences were performed by Londoners from every background (including three generations of Eastenders), opera singer Olivia Roy made our souls ache and our hair stand on end with an a capella love song, Martina Laird inhabited the glorious poem by Adam Zagajevsky, Try to Praise the Mutilated World, with her one-off Trini combo of sensuality and intelligence, Naana Agyei-Ampadu sang her goddess songs and embodied as she always does a visceral positive energy that could make you forget to cry ever again.
There was Jamaican poetry about privilege and class in architecture read by Jonathan Chambers, more songs of pitch-perfect beauty from Sheila Atim, Alyson Ava Brown and many more, Sylvia Pankhurst's ode to Women read by Mo Sesay as if he had always been her, Roy Williams showed us a boy asking and failing to get his father to want him.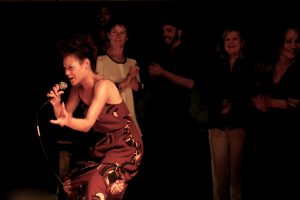 A blistering rendition of Marley's Redemption Song, then Get Up Stand Up, got the whole ensemble and half the audience on stage, dancing, singing and swaying – the singers improvised passing the mic, and one soaring voice after another in every register reminded us that we are here, together, confronting the unacceptable with solidarity and productive rage. We didn't cry so much as howl, laugh, think, sing and dance, all at once. No gush, just a palpable feeling of love and inclusion. Ann, Martina, Greta, Roy and all of you, especially Ché Walker who put it all together with his wild genius, thank you so so much.
A privilege to be there.
Bart said:
The audience sits mesmerised as poets, musicians, and powerful orators share their stories, music, and messages. I feel like an outsider looking in, like a reporter at the scene of the crime. Three young women stand at the front of the theatre and begin reciting a fiery poem. As the piece comes to a close, the middle girl cries, "This isn't a race war, this is a class war". I instantly became flushed from head to toe. I feel overcome by guilt over my privileged, white, middle-class upbringing. Should I be feeling guilty? I'm on the bottom tax bracket myself. So why do I feel responsible? The theme of class warfare continues throughout the evening, but aside from this theme, there are also powerful messages of love, unity and hope.
As these thoughts pass through my mind, the poem ends abruptly with the girl on the left glaring seemingly dead in my eyes and saying, "You should have had your camera running". That last line hits me hard. It is as if she is calling me out for being there with the intention of writing a story. In the same way, many journalists throughout the last few weeks have prospered from their reporting. However, I was at the theatre to capture the passion of the people dedicated to precipitating change.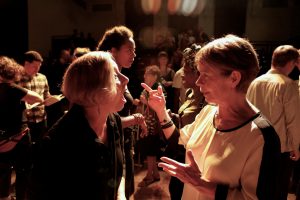 The show was filled with immensely talented individuals who were standing up for those who needed it. A cello wept, poets spoke truths, and songbirds sang songs of change. The whole crowd was there for a purpose. We held hands and joined together as a community.
You can read Bart's full blog here.