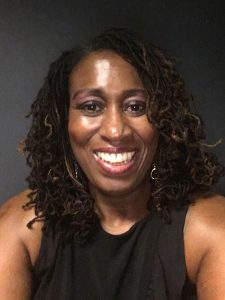 Read the first part of this interview here.
Elaine Grant was one of our first students, as well as being an employee of Wac Arts for eleven years. Keep reading to find out more about her career.
HB: Once you had graduated, did you find getting the parts that you wanted a struggle?
EG: I remember the term when I finished my degree course and was like 'oh my Gosh, this is it. I need to work now! Where do I go? What road do I take?' It was a real conundrum. I fell into working with a lot of black theatre. My first job was working for a company called UMOJA, a black theatre company in South London. I performed in two plays with them, which was really nice. I met the most incredible people, some I'm still friends with to this day. I got my first professional commercial theatre job, working for Bill Kenwright productions, working as an understudy in the comedic production Stepping Out, on the first national UK tour. I thought it would a great way to work in numerous major regional theatres and experience diverse communities and cultures. I toured with the company for about two years as an understudy and it was brilliant! I was still a little 'green behind the ears', as they say – but what a great way to learn the 'craft of acting', working on raked stages, flat stages…The actress I was understudying, we became really good friends and as the tour was ending, she allowed me to perform the role for one performance. She said 'Elaine, you've got to go on!' and it was incredible, as I will never forget that moment. And guess what?! Somebody from the production team saw me perform the part, and when the tour went out again,I was offered the part!
HB: And what was that moment like to actually stand on the stage?
EG: It was just – amazing. It was like a stepping out into another world, kind of feeling. This industry suits my personality, it just sums up my passion for the creative arts, as an actress I was given the opportunity to try lots of other things including children's theatre, I worked with The writer and director, David Woodon his production of The Gingerbread Man, I also worked at The Polka Theatre, and I think there was beginning to become a pattern of the kind of work that I was getting, a lot of my work was touring around the country which I absolutely loved, because I was single, I had no children and no responsibilities . But, you know, there came a time when I met somebody and I became pregnant, and I didn't want to tour with a child. But what I said to myself was, yes, I'm going to have my child and I want to continue finding performing work in London. I had an agent but I wasn't getting work the roles I wanted so I said to myself "I want to stay in the arts, what else can I do?' I knew that I wanted to work with young people so I went back to where I started –WAC Arts.
HB: Like so many people do. It's like a family, you never leave properly.
EG: I was offered the opportunity to run Junior Wac Arts and it 'perfect fit' for where I was in my personal life and once I was there working part-time on Junior Wac Arts, more projects kept developing. I was open to it all, and gaining lots of transferable skills along the way. I had to really retrain myself in office administration because I had no computer skills, but Wac Arts helped me pay for a computer course, so I learned all– Access, Word, Excel. I soon realised I enjoyed Arts administration and managing rich diverse programmes all over London. I loved Junior Wac Arts, absolutely loved it. Meeting the families, the kids, managing the tutors, monitoring and evaluating the classes – it was so buzzy and I had the best team of tutors and my assistant Linda was a dream to work with! I co-ordinated the Junior Wac Arts programme for five years, until my son became five and started school. Then the Foundation degree course leader role came up – the former course leaderhad been injured in a skiing accident and the director offered me the position and I thought 'Oh my, this is major'. But, I rose to that challenge, took it on – it was really, really hard work. It was a massive shift in my career development and slightly overwhelming if I am honest, so much paperwork! However, it was so rewarding to see how much those students had developed creatively and personally on that course – it was the first of its kind in the UK!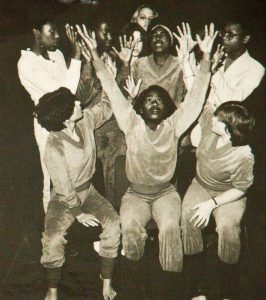 That's the lovely thing about Wac Arts and creating cutting-edge, innovative work. There was never a degree like it, anywhere! The thing I took away from the experience was that I was able to see two-year groups of students achieve their degrees and to sit in the Barbican concert hall and watch and applaud as they received their certificates after all that they'd been through – you know, a lot of them really struggled financially, personally and emotionally – but they made it through with pride. I still see some of them here and there. One of my students actually came to see me perform with my gospel choir a couple of months ago with her children – It was quite incredible. I led the course for a couple of years, and then I decided it was my time to move on. I'd been an employee at Wac Arts for eleven years!
HB: And then you found Mousetrap?
EG: My role at Mousetrap Theatre Projects was a perfect fit as I had the lengthy experience of working in theatre, with young people, schools and families. This is my eleventh year here at Mousetrap, and I really enjoy the diversity and variety of my work, I manage two of the biggest programmes here at Mousetrap. The family programme, Family First Nights, which connects me with strategic partners such as the National Portrait Gallery, the Royal Albert Hall, the Royal Opera House and numerous theatres and arts organisations throughout the UK –we manage to get families, in challenging circumstances, involved in arts and culture in a way that they would not have had the opportunity to experience without the support of the charity. One thing I was extremely proud of last year was working with some of Grenfell families, we took fifty-four families to see The Wind in the Willowsmusical at the London Palladium. The producer donated all the tickets for free and the majority of those families had never been to the West End, much less a theatre! I will never forget the looks of wonder, the smiles and thanks you's my team received after the performance.
HB: And that's what I love about Mousetrap, it's the enabling, it's the getting into the communities.
EG: It is extremely important that I get into the communities and talk directly with the beneficiaries of the partner organisation! Meeting some of those families that evening, their faces … they hugged me, they said 'Elaine, thank you so much, what an experience to be in this iconic building, and what fantastic seats!' All they wanted was a fun memorable evening with their children and other relatives, so they could, for even a few hours, forget the trauma and horror they had experienced a few weeks before.
HB: Well I know our students, you know, when our students come to a Mousetrap theatre visit, they all say the same things, it's: 'It's such an opportunity that they just wouldn't be able to go and see Wicked or –they just couldn't afford it. So, I see it from the other side, witnessing the important work that Mousetrap does.
EG: Thank you but it's all about connections and opportunities, I'm extremely proud of the work we do at Mousetrap, each year taking thousands of young people to the theatre and inspiring many more through the power of The Arts.
Read part 3 of this interview, which discusses Elaine's favourite memories of Wac Arts, and why she thinks our work continues to be important.