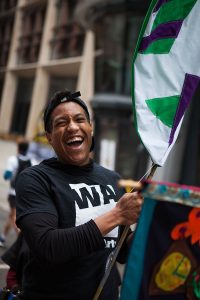 Next weekend, more than 50,000 people will be running in the Virgin Money London Marathon. Wac Arts are fortunate enough to have received a Charity Ballot place, and are delighted that AJ Lipford will be running for us on April 22nd. AJ was originally a member of our London Landmarks Half Marathon team, but jumped at the chance to go for the full marathon instead. Find out more about him by reading on!
Have you ever run a Marathon?
Yes, this would be my third time running one.
What training do you have to do to get your body and mind prepared for such an event?
At the moment, it's all about rest and recovery for my body. I do active runs during the weeks of about 4 to 6 miles. I am preparing mentally to push myself for my time to push boundaries. I am preparing to remind myself of my why, remind myself that I am strong and remind myself that the pain is always temporary, but glory is forever.
You came and watched the London Landmarks Half Marathon runners in March. What was it like to watch them and cheer for them at 8.3 miles?
It was amazing to see all of the hard work put in and cheer and encourage them to keep pushing for the next few miles. It was a great reminder of the feeling and joys of being a runner.
What do you think you will be feeling and thinking at 8.3 miles?
I think I will be feeling excited and nervous. Looking forward to the next few miles ahead in the marathon
What will motivate you to get to the end?
I think for me, my motivation comes from my reason for running which is Wac Arts. I think this will be my main drive to push pass the finish line knowing that I am doing this for a great cause and supporting a wonderful organization. MY second drive would be for all the people that who helped me train, rest and just have fun with this journey. I want to make them proud.
What time will you aim to complete the run in?
I am aiming to complete it in under 3 hours and 30 minutes
If you have a message for other runners on the day, what would it be?
Take in every moment of the journey as it will go by super quick.
You can read more about AJ in his original runner interview and you can support AJ and make a donation to Wac Arts today by at JustGiving.