London Landmarks Half Marathon
in March 2018.
The London Landmarks Half Marathon is a brand new, closed road, central London run. It is the only half marathon to go through both the City of London and City of Westminster.
10,000 runners will start on Pall Mall, finish by Downing Street and have fabulous views of London's most iconic landmarks including Big Ben, St Paul's Cathedral, Nelson's Column, the Gherkin, the Shard, the Tower of London and the London Eye.
The event will also deliver a pan-London community engagement programme and involve London wide schools, boroughs, community groups, cultural organisations, sports clubs and businesses in developing the event and on the day.
Our runners will aim to raise £5000 between them to support Wac Arts Programmes.
To donate to our runners please go to www.justgiving.com/fundraising/wacartsllhmteam
In lead up to the event we will be interviewing our runners, tracking their training and supporting them all to cross the finish line!
First up is AJ…
What's your favourite running tune?
My favourite running tune at the moment is "Controlla" By Drake
What experience do you have? Have you run before?
I am an avid runner! I have ran a Marathon, Half Marathon, and few obstacle course races!
What will be the first thing you will want to do when you finish the race!?
I think the first thing I would want to do is eat something, preferably a veggie burger!
What is your relationship with Wac Arts?
My relationship with Wac Arts is mainly through their mission to "empower young people to change their world through the arts". I believe the staff at Wac Arts are the best at doing this mission and the outcome that is created by young people is phenomenal!
What does Wac Arts mean to you?
Wac Arts for me means a way to not only support the arts but also young people. I believe that creative, artistic passion should be fostered at a young age in there is a need to support organisations such as Wac Arts to achieve this mission!
What made you take part in the London Landmarks Half Marathon?
I am looking for a new challenge and have never ran the London Landmarks Half and thought this would be a great opportunity to do so and support an amazing organization!
What is your training schedule?
I started my training by aiming to run 30 miles in total for the first week and build from there. I run smaller short runs during the week and compose my weekends with longer distance runs.
What time are you hoping to complete the race in?
Currently, I am aiming to run the Half Marathon in 1:35:00 or less!
The event is described as "not your average half marathon! From cultural landmarks and heritage to the city's quirky and hidden secrets, runners will get to explore the capital on a route like no other!" What excites you about taking part in the London Landmarks half Marathon?
What excites me the most is being able to run through some of London's most historic sites. Running in London is never a dull experience because there is so much to see and this half marathon will not be anything short of amazing!
How much are you hoping to raise?
I am hoping to raise 500 or more!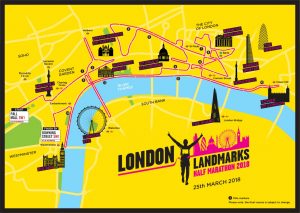 We're delighted to announce that we have 10 runners signed up to take part in the