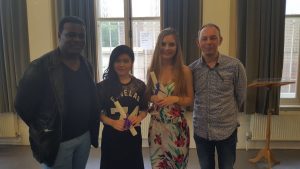 This week is the first week of term for our Diploma in Professional Musical Theatre. We have already welcomed all of our students, new and returning, to the building last week for their inductions, and were blown away by the energy and determination they're bringing into the year. We can't wait for the hard work to begin properly!
Our graduation ceremony at the end of last term was an opportunity for us to say farewell to our third year students, Hoi Wan Lau and Sophia Vesna. Wac Arts Patrons Simon Callow and Danny Sapani joined us and both spoke about their experience in the industry.
The ceremony was also an opportunity to celebrate the achievements of all of our Diploma students. Special congratulations to the returning students who received Special Progress Awards at the end of last term. Shelby Lattany received the award for progress in Singing, Adebimpe Adeyemo for progress in Drama, Elzbieta Kalicka for progress in Dance and Heloise Pret for 100% Attendance.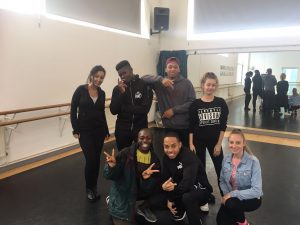 Wac Arts Chief Executive and Diploma Principal, Karen Napier, welcomed the new students with a message celebrating their work so far and looking forward to the next twelve months:
"I want to say a heartfelt welcome to those who are joining us as a first year this September and welcome back to those of you who are now entering the 2nd and 3rd years of the Diploma programme. The last academic year saw some fantastic personal and group successes and some wonderful performances. The end of year show Fable was packed full of outstanding moments and showed of the group's passion for performing arts, focus and creativity. The year ahead is looking to be action packed, as always the tutors are exemplary, working in the industry as well as sharing their knowledge with you. Our spaces are ready and waiting for you to fill them with your talent and our team is excited to celebrate all of your accomplishments over the coming years. So make the most of every moment, strive to be the best that you can and always know that we are here to support you on your journey to be an arts professional. Good luck!"