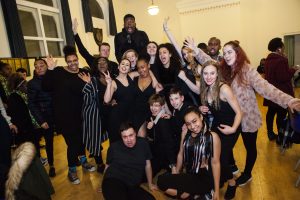 Wac Arts are delighted to be receiving £30,000 in funding from the Andrew Lloyd Webber Foundation, as announced today. The funding, spread over the next three years, will enable us to continue to provide specialist tutors on our Diploma and Senior Wac Arts programmes.
Following on from last December's Centre Stage report, priority was given to organisations, such as Wac Arts, that 'champion diversity and break down barriers'. Our own Celia Greenwood said in the report 'We are stuck in a place that is completely out of step with what the industry could be if we were to provide more diverse performers.' Our young people are 78% from Black and Minority Ethnic backgrounds, 19% have special educational needs and 72% come from a background of deprivation. We offer an arts programme, responding to young people's interests and requests, and we work with artist tutors and art forms which reflect our diverse community. The grant not only allows us to continue our work, but recognises Wac Arts as an organisation working to bring diverse talent into the arts.
Announcing the grant recipient winners, Andrew Lloyd Webber said: 'One year on from the publication of the Centre Stage report I'm delighted my Foundation is able to fund such a wide range of projects across the UK that help erode the barriers to careers in the arts and heritage for young people from all backgrounds. The report encouraged other funders and philanthropists to do the same. I urge everyone who can to get involved and support the development of diverse talent across our industry. I'm also particularly thrilled to see that we will have Heritage Angel Awards in Wales next year and will be able to celebrate the vital work that people contribute to saving our heritage right across the country.'
Congratulations to the 27 other grant recipients, whose work spans across all art forms. To find out more about the other recipients of grants, follow this link to the full press release.
About the Andrew Lloyd Webber Foundation
The Andrew Lloyd Webber Foundation was established in 1992 to promote the arts, culture and heritage for the public benefit. The principal provider of funding for all their charitable activities since its inception has been Andrew himself. Since 2010, they have embarked on an active grant giving programme, totalling £18m to support high quality training, personal development and projects that will enrich the quality of life for individuals and communities.