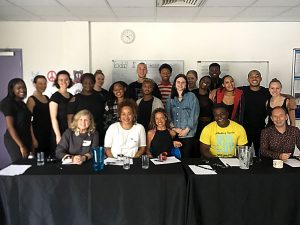 At Wac Arts we aim to give our students the best opportunities to develop their skills and work with professionals who know what it takes to succeed and have a lifelong career in the arts. From August 3rd to August 5th, the Wac Arts Diploma students had an amazing Masterclass week with top professionals from across the industry. Over the three-days, students acquired group and one-to-one guidance in dancing, singing, and acting skills.
On Masterclass week, Wac Arts was fortunate in having Mary Hammond, who is an English singing teacher and voice coach, to give an Audition Technique Workshop to our students. Mary is an experienced voice teacher over the years, and she has worked with many artists and shows both solos and in groups, such as Adele, Tom Odell, Vanessa White, Les Misérables, Mamma Mia, and The Phantom of the Opera.
The Masterclass students were also pleased to have Corey English, an American actor and dancer who took a class in tap dance and even demonstrated a few routines, the group were in awe of his ability and his experience. Jonah Hauer-King, a UK television and film actor (recently cast as Laurie Laurence in Little Women in 2018) who also turns his hand to songwriting and singing, coached the students in songwriting and gave useful feedback to individuals, drawing on his experience from writing songs for BFI's "Postcards From London."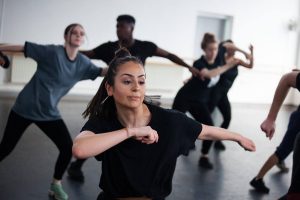 Jonah said "It was a real privilege getting to work with the diploma students. In the first half the session we looked at the art of songwriting, and they gave insightful, personal, and inspiring responses."In the later interview with Jonah, he said, "in the latter half of the session we joined together to write a song, using a lot of the techniques and tools we had discussed. The students were able to write some wonderful lyrics to a song, which I can't wait to rehearse and perform at the Christmas Cabaret."
Vicki Igbokwe is a guest tutor of Wac Arts and she is creative director, choreographer, and founder of Uchenna Dance. Vicki gave our students an amazing dance workshop in the styles of Afro-House, Waacking and Vogue. Her advice gave an important direction for students' future careers. Vicki spoke to them about empowering themselves, giving every class and move their all and realising and reaching their full potential.
On the last day of the Masterclass week, students manipulated their skills and imaginations to carve each character. Ann Mitchell, Martina Laird, and Danny Sapani, and drama technique tutor Indra Ove provided valuable advice to nurture each student's acting talent. Ann Mitchell graduated from East 15 Acting School. Currently, she is a British stage and television actress, and a visiting lecturer at East 15 Acting School, Royal Academy of Drama Arts and Guildhall School of Music and Drama. Martina has worked as an actress for almost 20 years, and she is currently staring in Shebeen (which has had great reviews) at Stratford East. Martina is best known for her role of Comfort Jones on the drama "Casualty." Danny has been a professional actor for almost 20 years, recently seen on the big screen in Marvel's Black Panther alongside Wac Arts alumni and this years BAFTA award winner Daniel Kaluuya. Indra is a Wac Arts drama tutor; she is a professional English movie and stage actress who has worked in theatre with Trevor Nunn in Timon Of Athens and Poliakov, in Blinded by The Sun. Indra was also in The Fifth Element, Resident Evil and Interview With The Vampire alongside Tom Cruise and Brad Pitt, as well as doing a lot of short and independent movies both in the UK and the US. The experts not only gave students suggestions but also presented how they would act if they were the characters. This insight was invaluable to those who are about to graduate and will be auditioning for roles and agents in the very near future. For the first and second years it was a chance to further deepen their skills ready for their final years of training and network with professionals.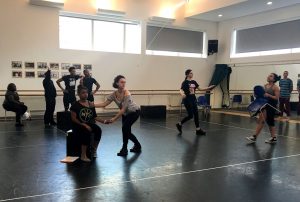 The Masterclass week was designed for the Wac Arts Diploma students to have an opportunity to improve their performing skills with experts. The Wac Arts' Diploma Course, is a Level 6 Diploma in Professional Musical Theatre, offers both contemporary and traditional performance styles with regular masterclasses and technique classes. International Visas and bursaries are available for students. After graduation, you will be a fully trained professional performer in drama, singing, and dancing, ready to have the career that you have dreamed of.
Our next audition for the Diploma course will be held on Wednesday 1st August 2018. For more information about the audition application process, please visit: www.wacarts.co.uk/what-we-do/professional-diploma/joining-us.
By Yuan Zuang
Marcomms Intern
---
Wac Arts has a fantastic opportunity for young people aged 16+ from September 2018…
Are you interested in full time performing arts training or know someone who would benefit from this opportunity?
The Wac Arts Level 6 Diploma in Professional Musical Theatre has auditions on August 1st and Mid September (date TBC) to start the 3 year full-time course in late September 2018.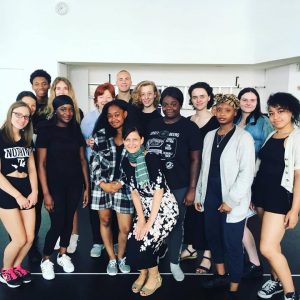 The course is at the forefront in performing arts training. The exciting programme offers not only a traditional, classical and contemporary syllabus but also performance techniques from around the world; Horton and Afro-fusion dance, Indian song, aerial skills, songwriting, puppetry and lots more. The focus is on young people leaving ready for a lifelong career in the arts and with 100% of grads between 2012-2017 going onto get representation or a professional job within 6 months of leaving. Small class sizes, professional development, holistic care and teachers who also work in the industry, Wac Arts knows what you need to succeed in today's performing arts industry.
[pullquote]"Wac Arts is transformational"
David Blake; Wac Arts Tutor and currently performing in the west end as Banzai in Disney's The Lion King[/pullquote]
Bursaries for course fees and auditions are all still available!
Check our website for further information on the course, how to apply and audition details: www.WacArts.co.uk/Diploma or email Gary.Grant@WacArts.co.uk