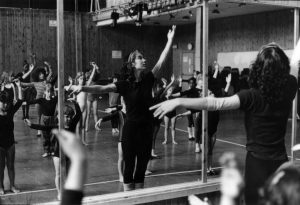 After ten years as part of the core team at Wac Arts, Martha Stylianou will be stepping down as Course Coordinator / Head of Dance for the Diploma at the end of this month. After arriving at WAC (as it was previously known) as a student 39 years ago when the doors opened, and then returning as part of the ACE Artists Development Initiative in 1990, Martha is leaving to further develop her own practice around injury prevention which she has been building over the last 10 years and to reconnect with her first love – dance. However this isn't really a goodbye – we're happy to announce she'll be back in the first instance working on the dance assessments, auditions day in May and on the third year Diploma in Professional Musical Theatre summer performance at the Cockpit Theatre in July.
Chief Executive Karen Napier said, "reading Martha's leaving card was a real testament to the many friends and colleagues she had made over a life time at Wac Arts. We are so pleased that Martha will be back from May contributing to the future of Wac Arts in new ways".
We celebrated Martha's time at Wac Arts with tea and cake this afternoon, during which our young people performed a beautiful musical farewell, which you can watch below.