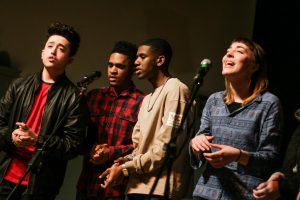 Wac Arts is delighted to announce that they have been awarded £60,000 over two years from Paul Hamlyn Foundation to support core organisational development. This funding will enable Wac Arts to become more robust financially and will therefore allow us to underpin the important work we do with young people, such as the Reach programme. The Reach project works with young people with disabilities, creating cutting edge technology projects, encouraging collaboration and exploring innovative and engaging activity for young people through digital technology, music and the performing arts.
Paul Hamlyn Foundation brings Wac Arts into a network of likeminded organisations that are committed to facilitating individuals and communities to come together to achieve positive change for young people using their own knowledge, skills and experience of the issues they encounter in their own lives.
Wac Arts is pleased to have the support of one of the larger independent grant making Foundations in the UK and this endorsement, given the very high levels of competition for funding, not only adds much needed financial resources, but serves to open the doors for other important funding opportunities for Wac Arts.

Régis Cochfert, Director of Grants and Programmes at Paul Hamlyn Foundation said, "At PHF we believe in a society where everyone can reach their potential and that value underpins our Youth Fund. Providing core funding, for the recruitment of a Director of Finance and Operations, means Wac arts can focus on income generation and sustainability. This will allow them to grow and use the power of the arts to improve the lives of even more young people facing challenging circumstances."