Last Sunday was the Wac Arts 4th annual fundraiser, Dare to Dream. Over 120 guests, 50 students, 20 staff, 7 trustees and 5 Patrons joined our celebration. A night showcasing the joy and confidence that the arts bring to young people, changing their worlds.
[pullquote]"The reason that I am here tonight is that Wac Arts truly means something to me. I would not have had the career I have without this place."
Wac Arts Alumnus and Patron, Actor, Danny Sapani[/pullquote]
Indhu Rubasingham along with her creative team produced a show that we're sure warmed the hearts of everyone in the theatre as we heard the young people from our past and our present perform with passion and share their aspirations and dreams.
[pullquote]"My dream is to that all young people are able to experience the performing arts before they go on to a job or a career in theatre. I believe all young people need to have access to the arts and the culture of the country. I got into theatre through an experience with my school. Without that, I don't know if I would be here today."
Indhu Rubasingham, Director of Dare to Dream[/pullquote]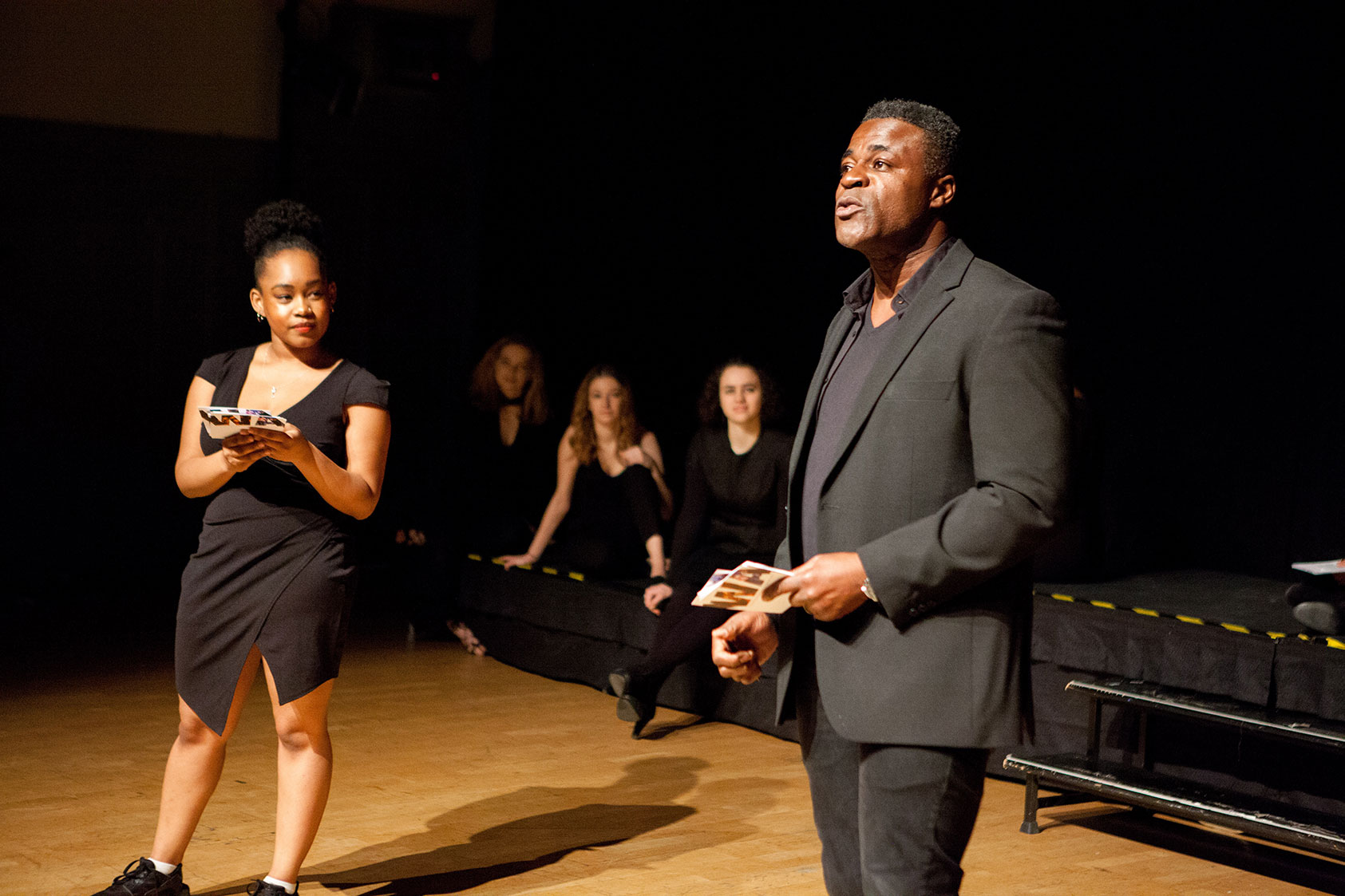 Shelby and Danny. Caption – Our MCs for the evening; Diploma student Shelby and Wac Arts alum and Patron, Danny Sapani.
Once the theme was set the creative team set to work curating the show by asking our young people to complete hero cards, explaining who their hero was and why. These were read out during the performance, woven together with quotes from alumni, drama performances and songs. These hero cards were the starting point for the team building on the theme of aspiration and dreams.
The evening kicked off with a performance of 'Another Life' from our Diploma in Professional Musical Theatre students. The song, originally devised for their end of year performance, demonstrated the huge talent of our students, making it an apt opening for the evening. The Master of Ceremonies for the event was Wac Arts alum and Patron Danny Sapani, supported by current Diploma student Shelby. Our Junior Wac Arts drama students joined Shelby and Danny to tell us why life was important to them before our patron Owen Teale took to the stage. Reciting Dylan Thomas' 'Fern Hill,' Owen spoke with a fondness for his home country of Wales and painted an image of a glorious green land for all the audience.
Ema Peiu sang a great tribute to fellow alum Sheila Atim with her performance of 'Tight Connection to my Heart'. Sheila, unfortunately, couldn't join us, as she was attending the Evening Standard Theatre Awards where she was nominated for the Emerging Talent Award. The Senior Wac Arts physical theatre group challenged themselves to tell the story of Cinderella in just five minutes and were successful, with a lot of humour that entertained all.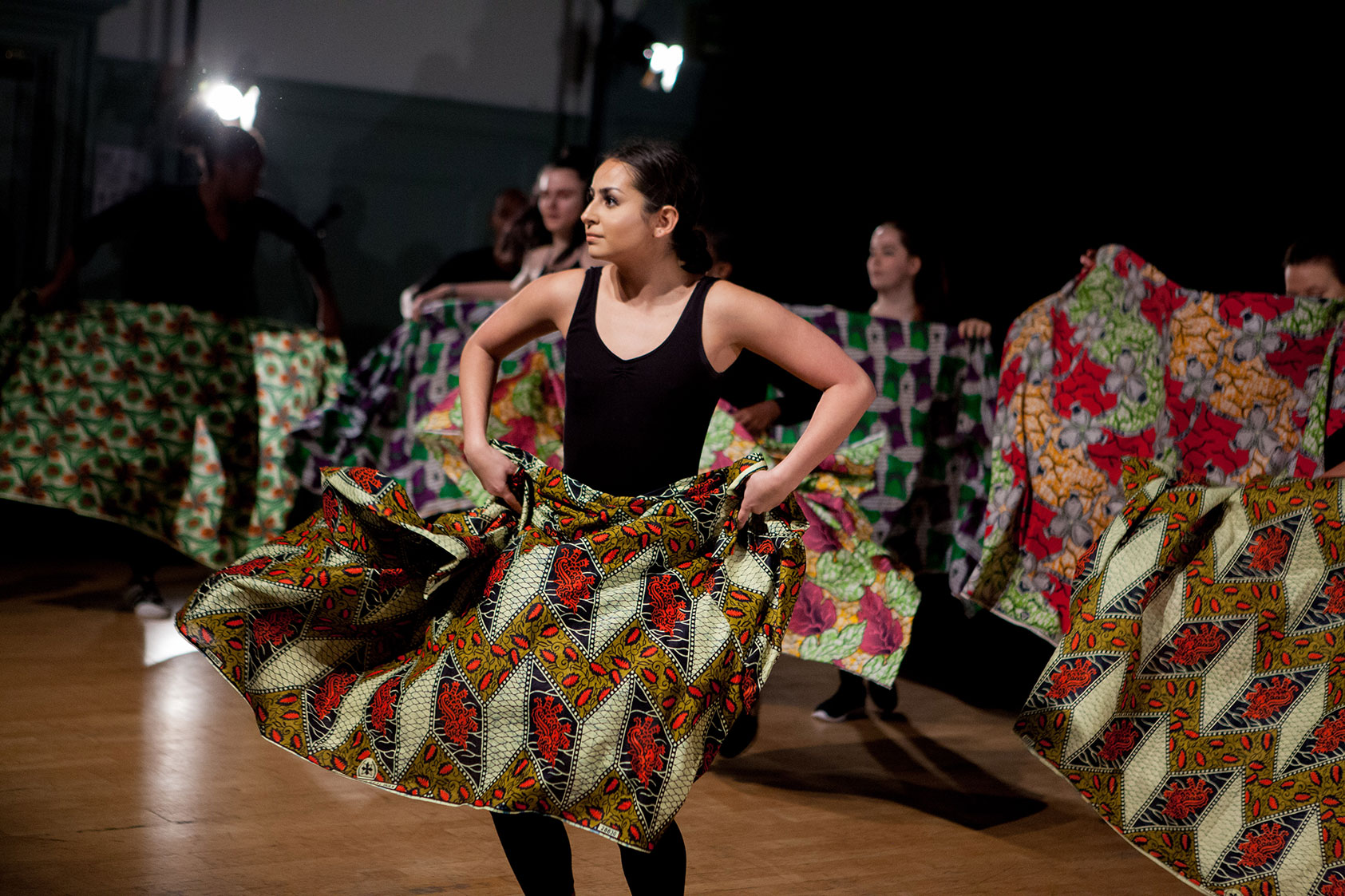 African Dance. Caption – Our Diploma students were joined by members of Urban Motivation to perform a dance inspired by 'The Head Wrap Diaries'.
We welcomed back our Diploma students, alongside students from Urban Motivation, who performed a piece of African dance. Diploma student Vivi was then joined by our new patron, Martina Laird, to perform a section of 'The House That Will Not Stand'. Martina Laird was in the original cast of the show at the Tricycle Theatre and performed her part exceptionally.
Diploma alum Nesah Gonzales sang 'Tomorrow' from Bugsy Malone, accompanying the David Blake dancers whose Horton Jazz routine beautifully told the story of a dancer striving to reach the top. Nesah's voice was sublime, and it was fantastic for her to take a break from her studies at the Royal Academy of Music to perform for us. This was followed by an original song written by Kevin Mark Trail, a Wac Arts alum and tutor, who took the words of Martin Luther King's 'I Have a Dream' speech and make it into a breathtaking song.
To bring the show to an end, our patron Simon Callow performed Prospero's speech from the end of 'The Tempest' to rapturous applause. We then welcomed back our students, who rounded off the great night with David Bowie's 'Heroes'.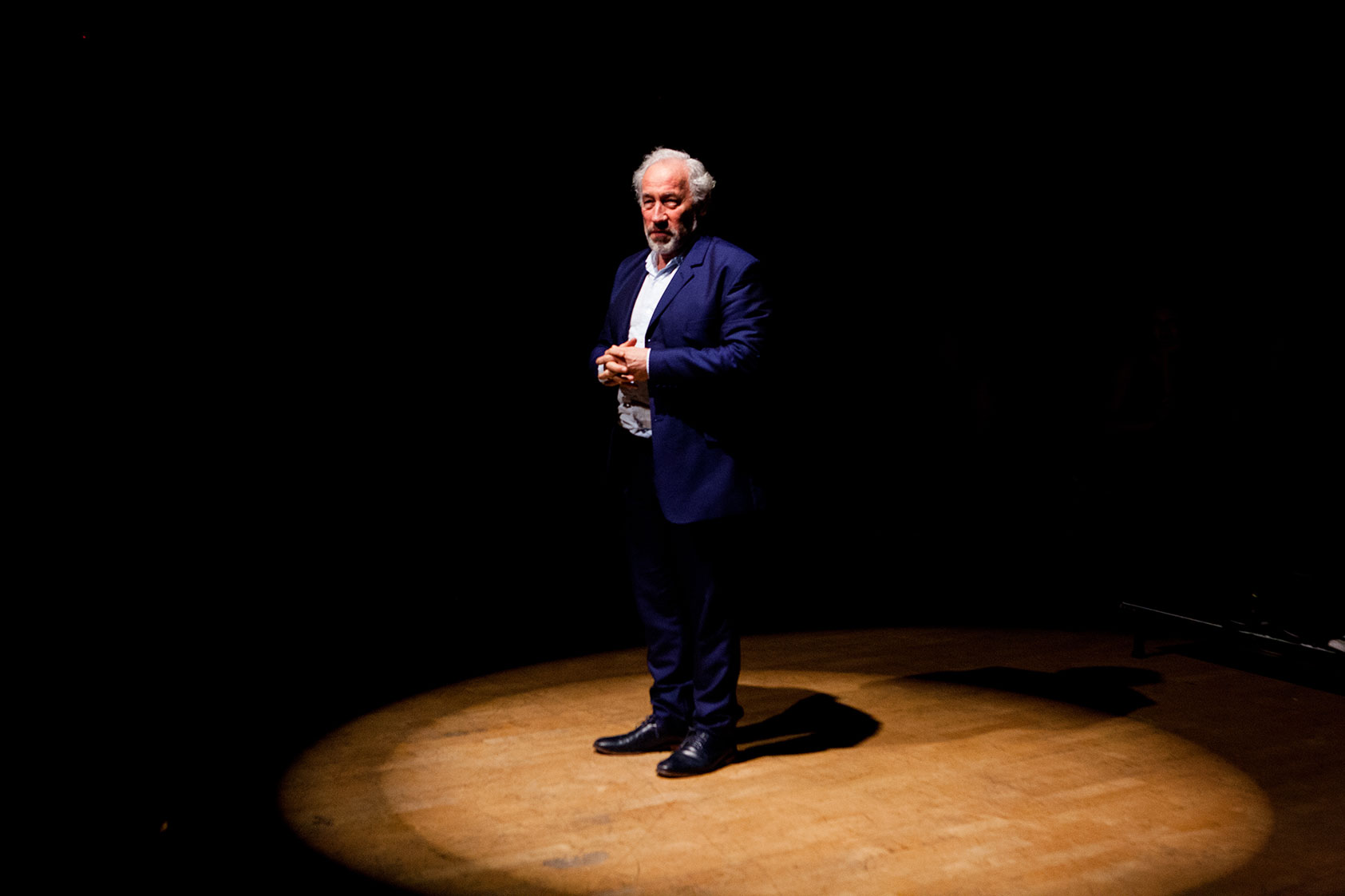 "Our revels now are ended. These our actors,
As I foretold you, were all spirits, and
Are melted into air, into thin air"
Patron Simon Callow bought the show to an end with the perfect quote.
Many of our alum who could not make the evening due to work commitments here and abroad but the theme of aspiration triggered an emotional response in our friends who were unable to join us. Many sent messages of luck for the performers and of their experiences of Wac Arts.
[pullquote]"I would say that [Wac Arts] expanded my view of the world, gave me a sense of the importance of working as a group, listening, working in harmony, working in time with other people, a group of young people coming together to create a common vision."
O.T. Fagbenle, Wac Arts alumnus and current star of The Handmaid's Tale[/pullquote]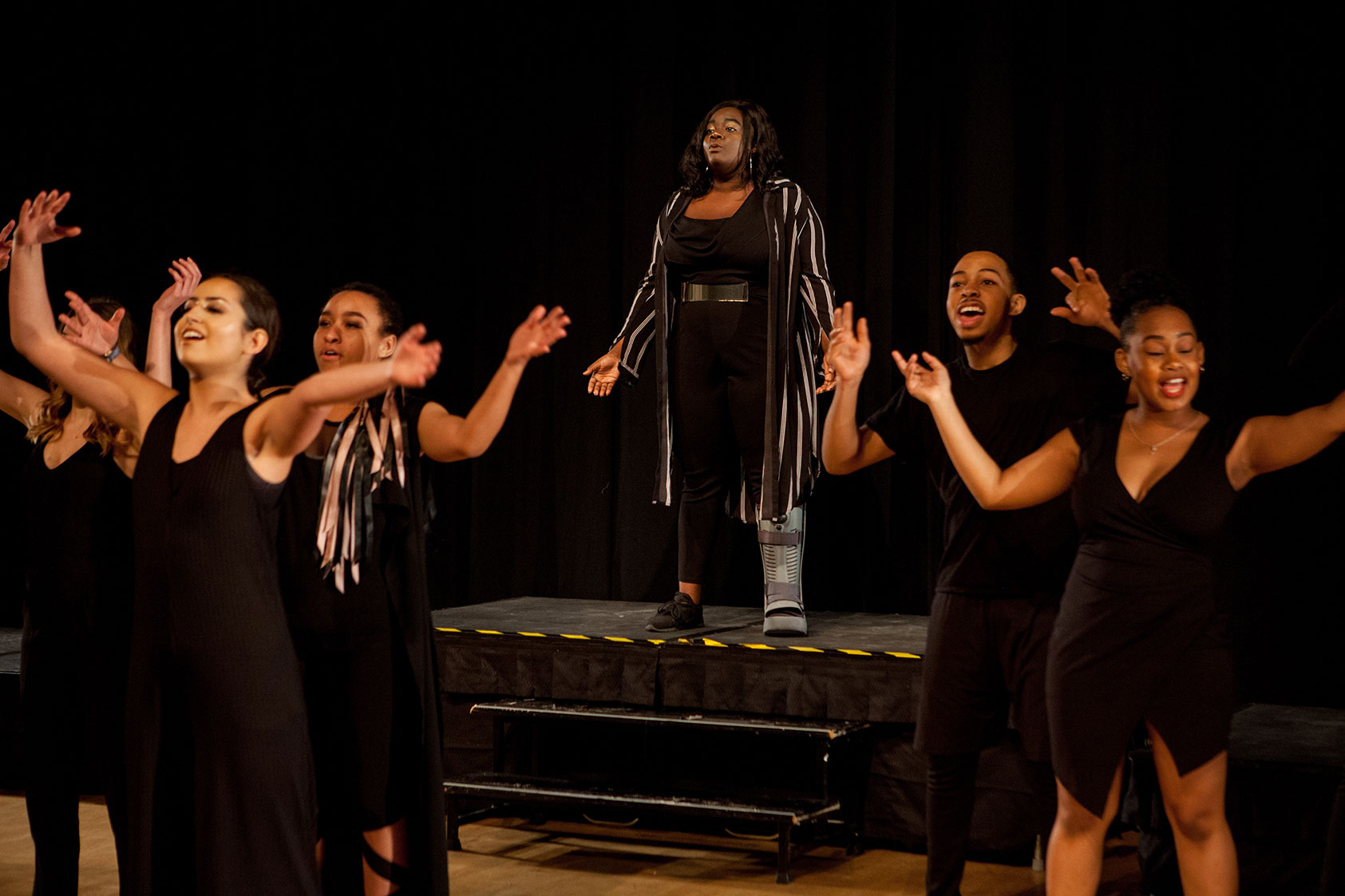 Diploma student Shekira sings 'Another Life', the opening number of student devised musical 'Fable'.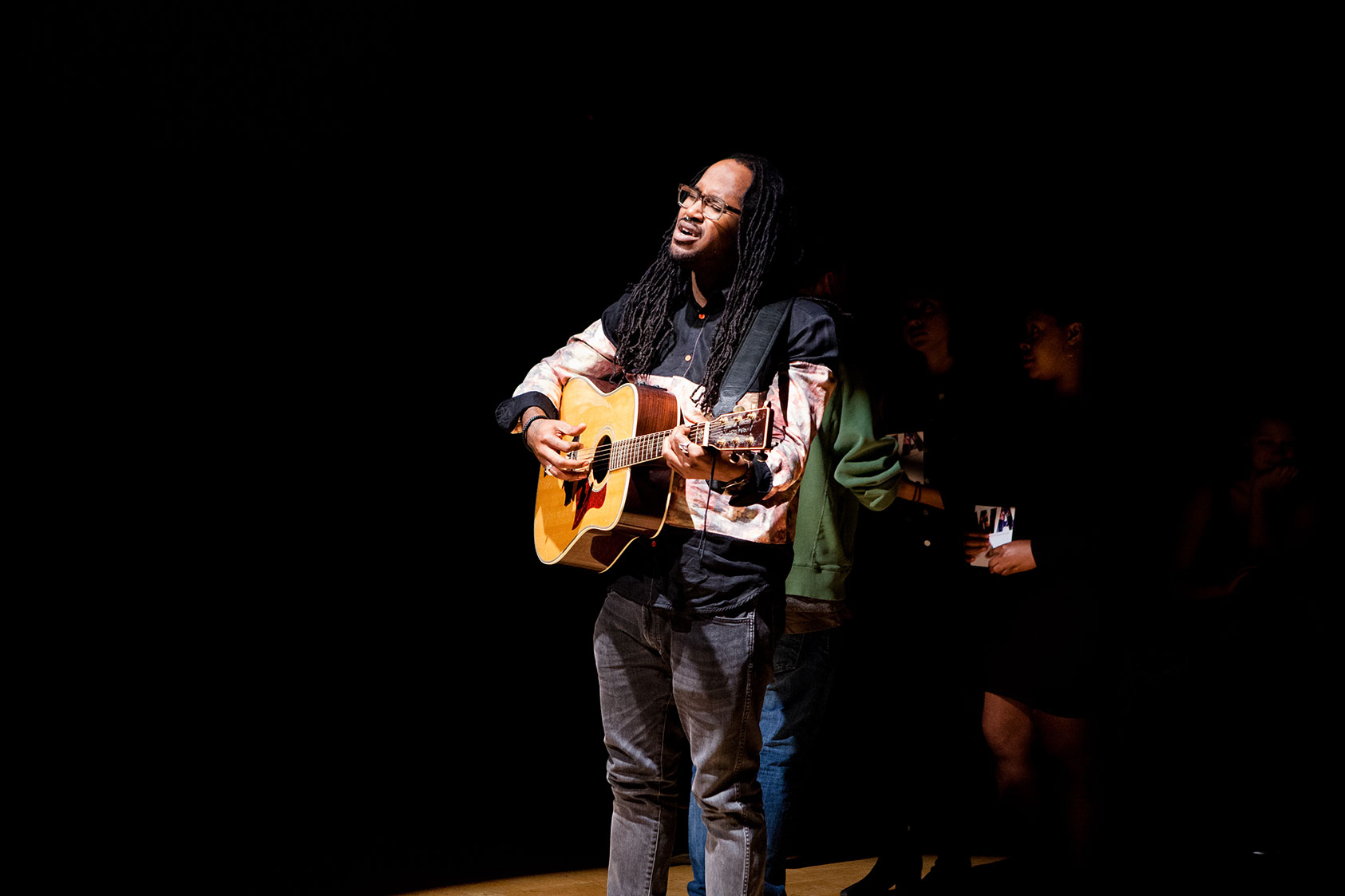 Kevin Mark Trail performing 'Dream', written for the especially for the evening.
We would not have been able to put on the event without the help of many friends. We want to thank Indhu Rubasingham, our Patron performers, our alum and young performers, the Event Committee, wonderfully chaired by Wac Arts Trustee, Rosie Hytner, the delicious canapé delights created by Diana Gross, our dedicated Wac Pack, the home team, and all our fantastic supporters the audience.
Thank you to everyone who made a gift. All donations received go directly to our young people, many of whom face barriers to accessing the arts. Your gift will enable a young person to develop new skills and confidence through the arts. It might also help a young person with a learning disability to use assistive technology to communicate with their peers and have fun.
To make a donation to Wac Arts go to www.WacArts.co.uk/SupportUs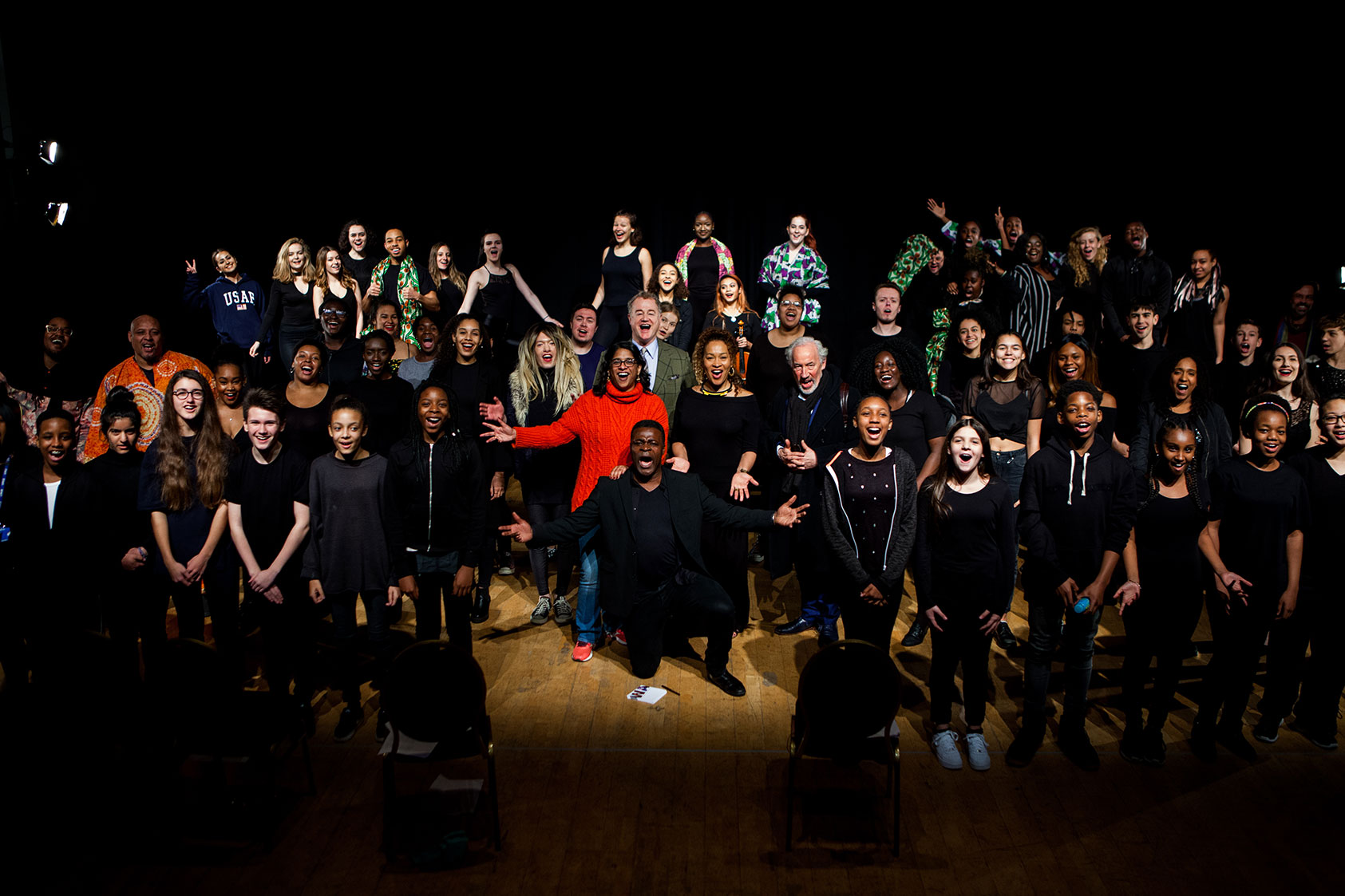 The full cast of 'Dare to Dream', joined by director Indhu Rubasingham.