In addition to opening the Weekender with their Mixed Showcase, the third-year full-time students have two other performances coming up. The first, showcasing their singing talents, will take place next week, and their drama showcase will be on Monday 26th March. Please come along and support the students at their last public performances before their final performance in July!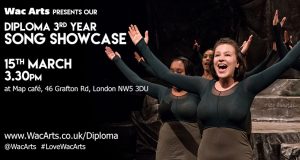 Song Showcase
15th March
3.30pm
at Map Café, 46 Grafton Road, London NW5 3DU
[button colour="green" type="squarearrow" size="small" link="mailto:gary.grant@wacarts.co.uk?subject=Tickets%20for%20Song%20Showcase" target="_blank"]Book Now[/button]
---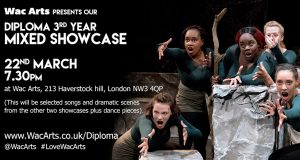 Mixed Showcase
22nd March
7.30pm
at Wac Arts, 213 Haverstock Hill, London NW3 4QP
(This will be selected songs and dramatic scenes from the other two showcases plus dance pieces).
[button colour="green" type="squarearrow" size="small" link="https://www.eventbrite.co.uk/e/wac-arts-weekender-3rd-year-diploma-showcase-tickets-43743382635″ target="_blank"]Book Now[/button]
---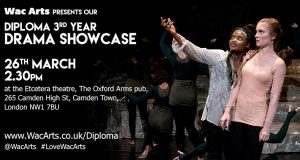 Drama Showcase
26th March
2.30pm
at the Etcetera Theatre, The Oxford Arms Pub, 265 Camden High Street, London NW1 7BU
[button colour="green" type="squarearrow" size="small" link="mailto:gary.grant@wacarts.co.uk?subject=Tickets%20for%20Drama%20Showcase" target="_blank"]Book Now[/button]